MLB.com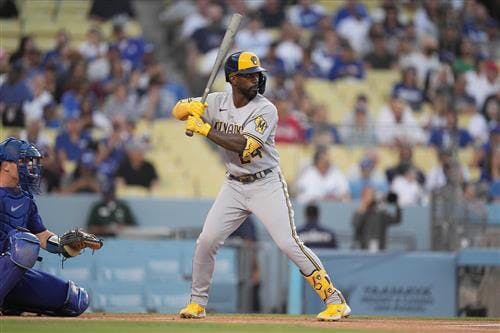 Though many of this offseason's top free agents wasted no time finding new (or old) homes, there are still plenty of players available who could make an impact in 2023.
With that in mind, six MLB.com experts were asked to pick their most interesting remaining free agent on the market. To be clear, it's not necessarily the best available player, but simply the most intriguing — for whatever reason.
Here are the six players who made the list:
Andrew McCutchen, LF/DH
It's been a very long time since McCutchen was the MVP centerpiece of some very good Pirates teams, and, at 36 years old, he's not likely to be viewed as an everyday player for teams hoping to contend in 2023. That said, in the right situation, there's still an opportunity to contribute, because he's a league-average bat who's got a streak of 14 consecutive double-digit-homer seasons going, and his running speed is still near the top of the league — even after tearing his left ACL in 2019.
These days, McCutchen is most effective against lefty pitching (.901 OPS over the last three seasons, compared to just a .672 mark against righties), so it's not hard to see a fit on a club with young, lefty outfielders, like Seattle (where he could platoon with Jarred Kelenic) or Arizona. Maybe "aging platoon part-time DH" doesn't excite you. But who among us wouldn't want to see one of the most important players of the last 15 years finally get a chance at that ring he's never been close to?
Nelson Cruz, DH
It's so easy to take a quick glance at Cruz's 2022 stat line, with his career-worst .337 slugging percentage and other sad marks, and say, "Ah, he's too old." But Cruz, who didn't experience his breakthrough season until his age-28 campaign in 2009, has sort of always been old in the Majors. And until very recently, he was unquestionably elite at the plate. From 2015-20, no player crushed more homers (220) and only Mike Trout had a higher OPS+. Cruz was on his way to another stellar year in '21, slashing .294/.370/.537 with 19 home runs in 85 games with the Twins before he was dealt to the Rays just three weeks after his 41st birthday.
Cruz hit 13 dingers for Tampa Bay, but his batting average (.226) and on-base percentage (.283) fell off a cliff. Matters didn't improve last year with the Nationals. He still hit the ball hard with regularity, but his power totals plummeted. His .103 ISO ranked 120th out of 130 qualified batters. Was this the inescapable grip of time on Cruz's shoulder or something more tangible? In October, he presented a good reason to believe it was the latter: He couldn't see clearly out of his left eye. Cruz said then that he had been dogged by the issue for almost a year and a half. Surgery at the end of the month was a success. He should be ready for Spring Training and has stated his desire to keep playing.