Bleacher Report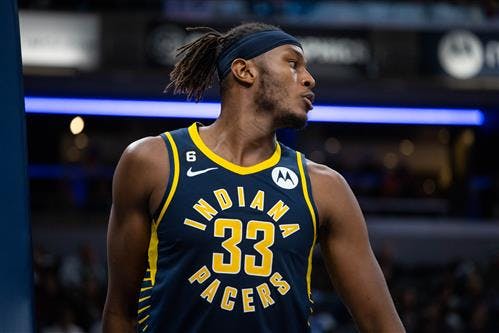 Much has been made of the perceived trade stalemate between the Indiana Pacers and Los Angeles Lakers, but the Los Angeles Clippers may yet change the conversation entirely.
According to multiple sources, the Clippers have discussed targeting Myles Turner in the market.
The Clippers are believed to be shopping some of their excess wing depth and are less likely to move a ball-handling guard like Reggie Jackson or John Wall. Team governor Steve Ballmer has shown a willingness to pay luxury taxes—the need to pay Turner after the season wouldn't be a deterrent for L.A.
The Clippers (8-6) are looking for a replacement for Isaiah Hartenstein, who left as a free agent for the New York Knicks. The Pacers have one of the top available big men, provided they commit to a direction for the 2022-23 season.
Clippers Need Size
When Ivica Zubac sits, Clippers head coach Tyronn Lue is using Nicolas Batum as the primary reserve, then Marcus Morris Sr. and Robert Covington. If Zubac is injured for an extended period or in foul trouble in a critical playoff game, the team would have a weak spot.
L.A. can offer its own 2028 or 2029 first-rounder to the Pacers for Turner. The Clippers' other firsts are tied up with remaining obligations to the Oklahoma City Thunder for Paul George, but the team has plenty of second-rounders available (except for 2027) and prospects like Brandon Boston Jr., Jason Preston and Moussa Diabate.
To match Turner's $18 million (with up to $20 million with incentives), the Clippers need to send at least $14.3 million in outgoing salary. For a deal to happen quickly, one of Norman Powell, Luke Kennard, Reggie Jackson, Morris or Covington would need to go to Indiana, assuming Zubac is unavailable.