Sportsnaut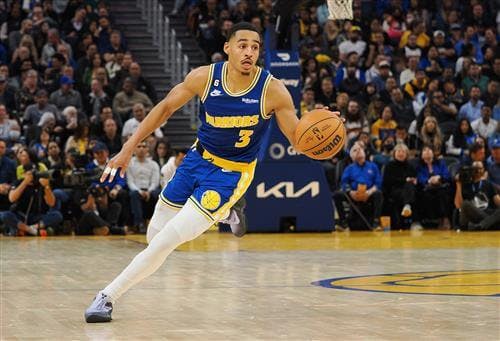 Despite only starting in three of his first 14 games, Golden State Warriors guard Jordan Poole continues to show that he's just picking up where he left off in his breakout 2021-22 season. Poole has been hot this season off-the-bench and his output suggests that a breakthrough is looming.
On Monday, the inevitable happened as Poole took off and logged a season-high 36 points in the team's 132-95 blowout victory over the San Antonio Spurs. It was beautiful scenery at the Chase Center and all signs point to Poole breaking into the Warriors' starting lineup permanently.
However, Poole becoming a staple starter for Golden State still seemed far-fetched at this point for various reasons. Primarily, Warriors head coach Steve Kerr noted after Monday's win that he's not thinking about inserting Poole in the lineup over Klay Thompson.
Given the amount of talent Poole possesses, those reasons should be enough for him to consider leaving the Warriors for a team where he can soar higher.
Let's take a quick look into that matter.
Jordan Poole will always be behind Klay Thompson
Undeniably, Thompson has already made his mark on the Warriors' faithful. However, even Thompson's numbers tell that it's about time for Poole to finally escape under his shadow.
Thompson was ruled out on Monday's clash with the Spurs due to Achilles tendon injury management. His health could be an issue once again this season. But prior to that, the five-time All-Star was already declining, having averaged 14.7 points per game on a 35% field goal shooting.
The most sensible call Warriors head coach Steve Kerr should make right now is to replace Thompson with Poole. If that will not happen soon, "Swaggy Poole" better start thinking about joining a team where there's no Thompson blocking his way.