Bleacher Report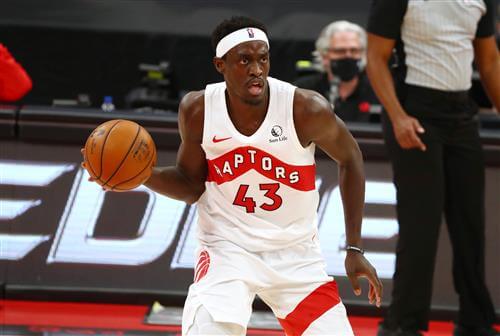 With just five teams posting point differentials that effectively rule them out of play-in contention, parity is defining the 2021-22 NBA season.
So few clubs occupying the extreme ends of the record and point-differential spectrum means there's ample opportunity for someone from the NBA's bloated middle class to barge into contention. To get there, they'll need a talent upgrade in the form of a Big Three.
Hopefully, the trades we've cooked up to create new star trios will be ones you haven't seen before. Also hopefully, they'll be just logical enough to consider—if only for fun.
One housekeeping item before we reshuffle the league by sending All-Stars and All-NBA talents to new destinations: Assume all of these deals will take place after Dec. 15, when players who signed new contracts over the offseason are eligible to move.
Let's triple up.
The Celtics Shake It Up and Add Pascal Siakam
Boston Celtics Receive: Pascal Siakam and Goran Dragic
Toronto Raptors Receive: Marcus Smart*, Al Horford and Romeo Langford
It feels wrong to boot Marcus Smart from the Boston Celtics. The fiery defensive dynamo has been a key factor in four conference finals appearances and, despite persistent overconfidence in his shot, has done far more good than harm during his eight seasons with the team.
That said, Smart is no star. Same goes for Al Horford, whose minutes this year have coincided with a minus-7.3 net rating.
They depart in exchange for Pascal Siakam, giving the Celtics a fearsome, fully switchable, kinda-sorta centerless look that could help unlock new dimensions on both ends. Siakam has won a ring and made an All-NBA team in 2019-20. He's played a career-high 41 percent of his minutes as a small-ball 5 and is far more mobile than Horford. His assist percentage is quietly right on track to match that of the Boston big man this season.
Siakam is also shooting it better from the field and from deep, and he's eight years younger than Horford, putting him more in line with the Jayson Tatum-Jaylen Brown age band. Robert Williams III can still start alongside Tatum, Brown and Siakam, but it's easy to imagine the Celtics downsizing to close games.
Smart is a friction creator—on the floor and off. That tendency toward confrontation is part of what makes him a special defender, but perhaps some of the tension in Boston would ease in his absence.
Dragic, who's played five games all year and is currently away from the Raptors for personal reasons, would provide playmaking to offset Smart's exit. The Raps probably hoped to get more for him in trade, but this at least beats a buyout. Horford, meanwhile, would give Toronto the reliable center it's lacked since losing the Marc Gasol-Serge Ibaka tandem in 2020 free agency.
Sorry, Romeo Langford. You're salary filler.
*Smart can't go anywhere until six months after he signed his extension, which means this deal can't happen until Jan. 25.
Dallas Addresses Its Biggest Weakness
Dallas Mavericks Receive: Gordon Hayward
Charlotte Hornets Receive: Tim Hardaway Jr., Dorian Finney-Smith
The Mavs are giving up two starters for one here, sacrificing Hardaway's instant offense and Finney-Smith's clampdown defense for a slightly overpaid 31-year-old with a history of missing time because of injury.
What could go wrong?
The appeal for Dallas is all about Hayward's ability as a secondary playmaker. Hardaway is a play-finisher, a shoot-first operator who's posted double-digit scoring averages for the better part of a decade. He also vacillates between poor and passable on D, lacks the size to provide much versatility and averages 1.9 assists per game for his career.
Hayward has averaged as many as 5.2 dimes in a season and has hovered around the top 10 percent in assist rate at his position every year since he was a rookie. Those numbers understate his value as a facilitator, as Hayward is no assist hunter. He sprays the ball around the floor within the flow of the offense, creating opportunities by drawing defenders on drives or simply keeping the rock moving. He's handed out at least five assists to eight different teammates so far this year and has vision Hardaway Jr. can only dream of.