Clutch Points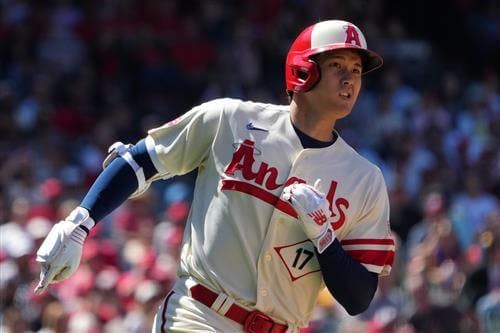 At this point, it's essentially guaranteed that Shohei Ohtani, the most freakishly gifted baseball player in the history of baseball, won't be a Los Angeles Angel next year. Nor should he! It's a waste for Ohtani's talents on mediocre teams, siloed away from the broader public by the Pacific Time Zone and the Angels' general badness. The only remaining question is if he'll leave Anaheim via trade or in free agency. In any trade, though, the Angels won't get fair value; no team will empty their entire cache of prospects without the guarantee that Ohtani would sign an extension and teams with the means to sign Ohtani in the winter will be reluctant to empty their farm system just to have an extra two months with him. Nevertheless, there are pathways to a league-shattering trade. Here are three wild Shohei Ohtani trade proposals for the Dodgers, Mets and Rays.
Dodgers get: Shohei Ohtani
Angels get: 2B Michael Busch, OF Nick Nastrini, RHP Ryan Stone, OF Trayce Thompson, Rayne Doncon
Although the Dodgers are probably the favorite to sign Ohtani in free agency, they also have the requisite minor league talent to trade for Ohtani without feeling too much pain. The Dodgers are hyped as a superteam because of their seemingly endless money, but the real root of their success has always been their player development apparatus. Accordingly, the Dodgers have the depth to acquire Ohtani without parting with Diego Cartaya or Bobby Miller, two of the 25 best prospects in MLB. Still, Busch and Stone are both blue-chippers in their own right, while Nastrini and Doncon are among the Dodgers' top 15 prospects and would surely receive more hype on a different team where they aren't overshadowed so much.
For the Dodgers, trading for Ohtani rather than waiting for his free agency would be alluring because it would immediately and significantly bolster their chance to win the World Series; they'd be adding Ohtani to a loaded roster without sacrificing any real contributors. A lineup anchored by Ohtani, Mookie Betts and Freddie Freeman would be unnavigable for most pitchers; a rotation headlined by Ohtani, Julio Urias and Clayton Kershaw would be unhittable for most batters.