MLB Trade Rumors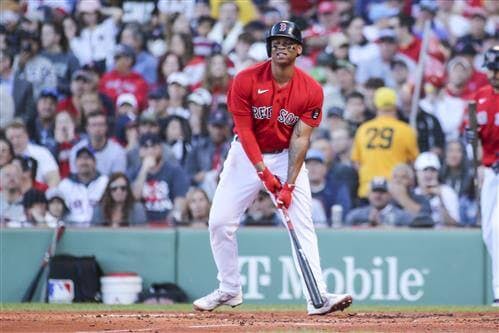 The Red Sox and third baseman Rafael Devers are in agreement on an extension that will keep him in Boston through the 2033 season. Though many outlets reported this as an 11-year extension worth $331MM, Devers and the Sox had already agreed to a $17.5MM salary for 2023. By MLBTR's standards, then, he agreed to a ten-year, $313.5MM extension today. There are no opt-outs in the deal and he won't have a no-trade clause. The deal is pending a physical and is not yet official. Devers is represented by Rep 1 Baseball.
Devers, 26, was set to enter his final year of club control, with he and the club recently agreeing to a $17.5MM salary for 2023 to avoid arbitration. He was slated to reach free agency after the upcoming campaign but now seems to be sticking around for an extra decade, with this agreement set to take him through the 2033 campaign and his age-36 season. Once completed, the $313.5MM guarantee will easily break the record for the largest in franchise history, which was previously held by the $217MM deal for David Price. It will also be the 10th-largest guarantee in MLB history, while the $31.35MM average annual value will get him into the top 20 all-time.
Devers will now stick with the only organization he's ever known and could well spend his entire career in Boston. The Sox signed him out of the Dominican Republic as a 16-year-old in August of 2013, giving him a $1.5MM bonus. He worked his way through the minors and was seen by many as one of the top prospects in the sport. Baseball America ranked him in the top 20 on their top 100 list in both 2016 and 2017. In that latter season, Devers cracked the majors and debuted while just 20 years old. Despite that young age, he hit 10 home runs in just 58 games and produced a batting line of .284/.338/.482. That led to a wRC+ of 110, indicating he was 10% better than the league average hitter.