Clutch Points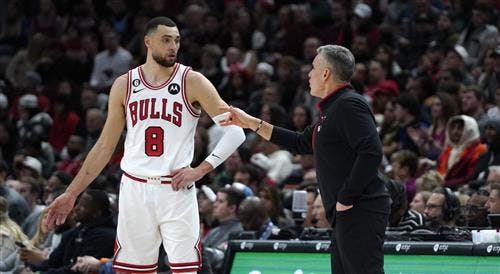 The New York Knicks are probably the most confusing team in the NBA this season. One week, they are in the middle of an eight-game win streak; the next week, they find themselves in the middle of a five-game losing streak. It's a strange situation for the team to find themselves in, but they may be looking to make a move geared to get them in the win column more often by pulling off a trade for Zach LaVine.
The 2022-23 season hasn't gone the Chicago Bulls way, and there are rumors that they could blow up their roster considering how they currently sit in 11th place in the Eastern Conference right now. The main player involved in those rumors happens to be LaVine, who doesn't sound happy with his role on the team, despite agreeing to a massive five-year, $215 million extension over the previous offseason.
With rumors of tension brewing between the two sides, several teams across the NBA have been keeping an eye on the situation, including the Knicks. With the Knicks looking to potentially add another player to make them a de facto playoff contender, and the Bulls on the verge of falling apart, let's take a look at the perfect Knicks trade package that would net them LaVine here.
Knicks get: Zach LaVine
Bulls get: Immanuel Quickly, Obi Toppin, Evan Fournier, 2023 1st-round pick, 2023 1st-round pick (from DAL)
Despite the strange situation in Chicago, LaVine has been putting together another strong season with the Bulls (22.7 PPG, 4.3 RPG, 4.3 APG, 45.8 FG%, 38 3P%). LaVine is a scorer first, and while he occasionally makes an impact in other areas of the game, you are adding LaVine to score 20 points a night.