Sportsnaut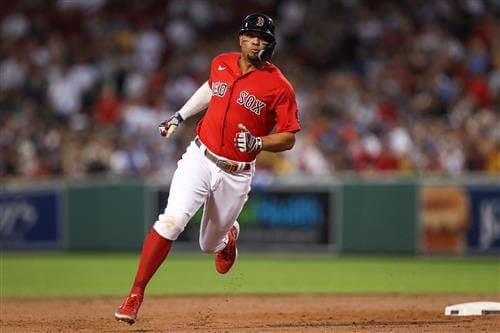 The shortstop market this winter is absolutely stacked, and Xander Bogaerts is arguably the best of the bunch. That is why he is sure to have many suitors competing for his services over the next few months in MLB free agency.
Players like American League MVP Aaron Judge and New York Mets great Jacob deGrom will receive a lot of free-agent attention, but shortstop is by far the deepest position this winter. And all-Stars Carlos Correa, Dansby Swanson, Trea Turner, and Xander Bogaerts are all available to the highest bidder.
However, the Red Sox veteran is in a class of his own. The 30-year-old is a four-time All-Star, has a World Series title under his belt, and has succeeded in one of the hardest markets in sports: Boston. If you can play at a high level for a decade and win a title in that city, you can do it anywhere on the planet.
What is also key this winter is Xander Bogaerts is still in his prime right now. It means any franchise that ponies up big bucks for him is likely to get an All-Star for at least three more seasons. He is a game-changer player that could easily push a contender over the line into a serious championship threat in 2023.
Xander Bogaerts is sure to garner some serious interest over the next few months, and as mentioned above, there are good reasons for that. While there could be as many as a dozen teams that reach out about his asking price, only a select few have a real chance of securing his talents.
With that in mind, here are the five teams with the best chances of signing Bogaerts in MLB free agency this winter.
New York Yankees
What a killer blow it would be to Boston for the New York Yankees to sign away their homegrown star. The Red Sox are already at a weak point coming off a down season in 2022. Losing the heart of their roster would be elite-level kicking a team while they are down.
However, beyond hurting their greatest rival, the Yankees could use a player like Bogaerts. While they have a top prospect in Oswald Peraza that can man shortstop, signing Bogaerts could force him to an easier spot while strengthening the order behind Aaron Judge — assuming they re-sign him.
If they don't re-sign Judge, Bogaerts could be a new face for the pinstripes.