CBS Sports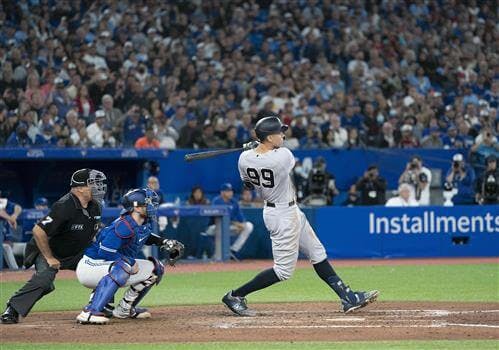 Aaron Judge launched his 61st home run of the year on Wednesday against the Toronto Blue Jays, meaning he's now tied Roger Maris' single-season records for both the New York Yankees franchise and the American League as a whole. Seeing as how Judge is also threatening to win the AL Triple Crown, it's only fair to write that he's having one of the best offensive seasons in recent history. He'll likely be rewarded for it in the form of the AL's Most Valuable Player Award once all the ballots are counted this fall.
Judge will be rewarded in another respect this winter, as he's in line to become the offseason's most sought-after free agent. You may have heard that he turned down the Yankees' last extension offer in the spring, a deal that would've paid him more than $210 million. The decision to bet on himself looks brilliant now, and it makes for an enticing question: with whom might he end up signing before next season?
We here at CBS Sports are nothing if not the messy type, so below we've tiered and ranked all 30 teams based on their perceived likelihood of signing Judge. We should note that this is more of an art than a science — there's still time left in the regular season, for Pete's sake — and that exercise is for entertainment purposes only. In other words, don't get too high or low in response to your team's placement.
With the fine print out of the way, let's get to ranking things.
Tier 1: No way, no how
30. Pittsburgh Pirates
29. Oakland Athletics
28. Miami Marlins
27. Kansas City Royals
26. Tampa Bay Rays
25. Cincinnati Reds
Again, Judge turned down an extension that would have paid him more than $210 million. He's certain to receive even more this winter. Can you imagine the Royals or the Athletics handing out such a contract? Of course you can't; not in this version of the simulation. We would, however, pay a small fee to watch a livestream where Pirates general manager Ben Cherington presents the idea to owner Bob Nutting.
Tier 2: Swing and a miss
24. Detroit Tigers
23. Washington Nationals
22. Baltimore Orioles
21. Milwaukee Brewers
20. Colorado Rockies
19. Los Angeles Angels
None of these teams seem likely to either 1) spend the necessary money or 2) make the postseason. Seeing as how Judge will have his choice of teams that can and will do both, there's no sense wasting much time weighing this group's respective merits. We will concede that the idea of Judge joining forces with Mike Trout and Shohei Ohtani is tempting, but the Angels seem more likely to trade Ohtani before or after a sale.