NBA Analysis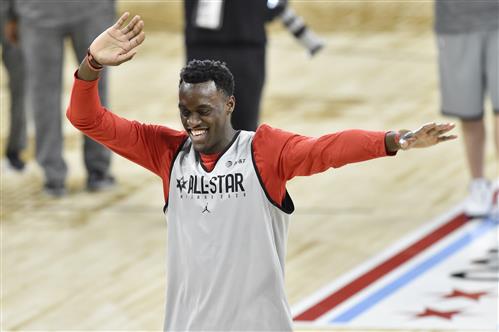 With no DeMar DeRozan, no Kawhi Leonard and now no Kyle Lowry, the Toronto Raptors are entering a new era in their franchise's history. After going 27-45 last NBA season, their worst record since winning just 23 games during the 2011-12 season, the Raptors are now looking ahead to the future with talents like Fred VanVleet, OG Anunoby and Pascal Siakam.
Early on this season, Toronto is 7-6 and looks like a team that is very much in the fold for a playoff spot in the Eastern Conference, but there are still a lot of questions hovering over this organization. Rookie Scottie Barnes has been fantastic and looks like the early favorite to win Rookie of the Year and then OG Anunoby is putting together a solid looking resume for Most Improved Player.
Along with key talents in Precious Achiuwa, Chris Boucher and Khem Birch in their frontcourt, the Raptors have had a really strong start to the season even though Pascal Siakam did not make his debut until the team's 11th game of the year.
Toronto has had a lot of success with Scottie Barnes, OG Anunoby and Precious Achiuwa leading the way in their frontcourt, so could this lead to the Raptors exploring some trade opportunities for All-Star Pascal Siakam.
There was some talk in the offseason about the Raptors possibly hitting the "reset button" and moving their All-Star forward, but no real trade talks ever materialized.
The Portland Trail Blazers are looking for ways to add more talent around Damian Lillard and as a result, they could be a team highly interested in Siakam should he become available this season.
Right now, the Raptors seem content with the roster they have, but they will be making some moves ahead of the trade deadline.
They showed their willingness to make trades at the deadline last year by moving Norman Powell for Gary Trent Jr., and almost moving Kyle Lowry as well, so we should expect nothing less than Masai Ujiri this season.
Do the Trail Blazers have what it takes to possibly pull off a big blockbuster trade for Toronto Raptors forward Pascal Siakam? Let's take a look at what this trade could look like courtesy of Hoops Habit's Jack Simone.
Toronto Raptors Receive: C Jusuf Nurkic, F Robert Covington, G Anfernee Simons, F Greg Brown III, G/F Tony Snell, POR 2025 1st Round Pick (Unprotected)
Portland Trail Blazers Receive: F Pascal Siakam, F/C Chris Boucher
This would certainly be a huge move for the Portland Trail Blazers to make, but there are some things to touch on with this trade before going in depth about what this trade could mean for both teams. The first thing is that the Raptors physically cannot make this trade due to their roster size.
Toronto has one open roster spot right now, so they could take on three contracts for the price of two, but they would be acquiring five players for the cost of two in this deal. Unless they are going to be waiving some guys and eating their contracts or trading two other players on their roster, the Raptors cannot make this deal happen.