Bleacher Report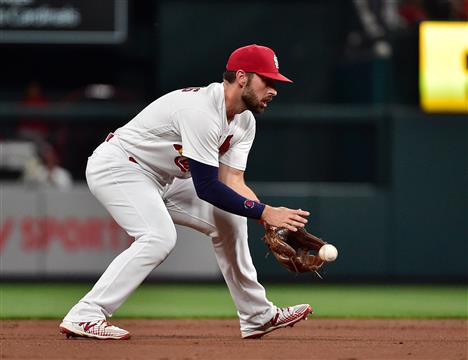 Baseball fans need to brace themselves for a 2021 MLB offseason that features a robust free-agent class and a bitter labor dispute, in which a work stoppage seems imminent.
Unresolved issues, like revenue sharing and how salaries are determined, will drastically affect the way baseball teams operate.
To that point, it's already been reported that the markets for star free-agent shortstops Corey Seager and Marcus Semien have accelerated to get deals done before a potential lockout begins on Dec. 1.
However, don't sleep on some of these high-profile trades that are likely coming. Regardless of how the CBA shakes out, teams with big-name trade candidates have important decisions to make about their direction and how these players fit into their future.
So, with that said, let's look at some notable traded candidates for this offseason.
St. Louis Cardinals SS Paul DeJong
After exploding on to the scene with 25 home runs and a 121 OPS+ in his rookie campaign, DeJong's underlying metrics have continually regressed every year since his debut in 2017, dropping to a career-worst 86 OPS+ this past season.
Even though DeJong is not slugging the way he was in his first three seasons—when he hit a total of 74 home runs—and last year was a drastic turn for the worst, he still should have some trade value. His contract is affordable, and the 28-year-old could still return to his All-Star form from two years ago. The Cardinals should also have their sights set on one of these premier free-agent shortstops.
The bottom line for St. Louis: They don't need him. If not someone from the star-studded free-agent shortstop class, the Cardinals are content with Edmundo Sosa in that spot.
Whoever would trade for DeJong gets the next four years of potential team control, but only $15 million guaranteed in 2022-23.
Philadelphia Phillies SS Didi Gregorius, 1B Rhys Hoskins
The Phillies desperately need to find help for Bryce Harper. Having one of the most underperforming defensive infields in baseball did not help. Only three infields were worst than the Phillies in outs above average, according to Baseball Savant.
Gregorius is a pending free agent in 2022. Why not free up the $14.5 million in salary this year and just move on?
Hoskins' 2021 season ended in late August when needed surgery to repair a tear in his lower abdomen. This is Hoskins' second arbitration year, and the Phillies should decide whether to give him another raise in 2023 or spend that money elsewhere.
The National League likely adopting the designated hitter in the new CBA could place added value on Hoskins.
Tampa Bay Rays RHP Tyler Glasnow, CF Kevin Kiermaier
The Rays already shopped injured ace Glasnow and center fielder Kiermaier to the Cubs this summer, according to MLB.com's Anthony Castrovince. Tampa is all about making moves, and given the disappointment of how last season ended, it's a foregone conclusion that some veterans are on their way out.
The question really is which ones. Glasnow is expected to miss the entire 2022 season while recovering from Tommy John surgery, but he will get a slight raise in these last two years of arbitration before free agency.
How much do the Rays value someone they may only have for one more healthy year?
Kiermaier is owed $12.2 million in his final guaranteed year under team control, making this the right time to sell.