Bleacher Report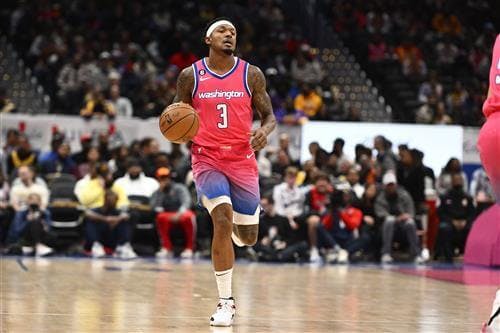 We're less than a week removed from the end of the NBA Finals, and the offseason rumor mill is already picking up speed.
Wednesday, ESPN's Adrian Wojnarowski and The Athletic's Shams Charania both reported on the Washington Wizards' potential trade of Bradley Beal.
The news was far from surprising. Washington has been, at best, mediocre over the last decade or so. Since Beal's career started in 2012-13, the Wizards are 20th in winning percentage, and they haven't gotten any better since Beal entered his prime.
New Wizards president Michael Winger seemingly wanting to unload the four years and $207.7 million left on that contract makes sense.
But that raises the question: If this deal is so bad for Washington, who else would want to take it on? Are potential trade packages for the soon-to-be-30-year-old guard going to be smaller than expected? Which teams might throw caution to the wind and go after him?
Answers to all that and more can be found below.
Miami Maximizes Jimmy's Title Window
The Deal: Tyler Herro, Kyle Lowry and a 2027 first-round pick for Bradley Beal and Monte Morris
Another complicating factor, at least from the Wizards perspective, is the fact that Beal has a no-trade clause.
With Beal essentially controlling the process, this may wind up being largely a cost-cutting move for the Wizards.
If, for example, he says the Miami Heat is the only team he'll play for, that front office isn't going to pony up a massive offer for him. If he gives the team a list of suitors for which he'd decline that no-trade clause, there could be a bit of a bidding war.
But even in that case, the Heat might be able to put together the strongest package. Charania already listed them as a potential suitor, and they can add multiple additional first-rounders to that package, if necessary.
As for the mechanics of what's already detailed above, Lowry will be on an expiring contract in 2023-24. That alone saves Washington a ton of money over the three following seasons.
And while Tyler Herro is locked up through 2026-27, he's 23, and his contract peaks at $33 million. Beal's peaks at $57.1 million. Herro may not be the kind of cornerstone talent you want to build an entire team around, but he still has potential and shifting to his deal opens up a ton of flexibility.
For Miami, taking on the Beal salary isn't a no-brainer. It isn't for anyone. But the Heat can justify it more easily than most.
They were just in the Finals with Jimmy Butler and Bam Adebayo. They've made two Finals and three Eastern Conference Finals in the last four years, but each of those runs has maxed out before reaching the ultimate goal.
And Miami's 105.5 offensive rating against the Denver Nuggets was well shy of its 25th-ranked regular-season mark of 112.3 and suggests a need for more firepower.
That's what Beal can provide.
It was just two years ago that Beal ended a two-season stretch in which he averaged 30.9 points, 5.2 assists and 2.6 threes. And while he may not get as many shots with Miami as he did in 2019-20 and 2020-21, having Butler and Bam around to create open looks for him (and cover for him on defense), could make Beal's basketball life easier than it's ever been.
To make the money work under the collective bargaining agreement, Monte Morris and Lowry had to be included too, and that actually makes this deal more attractive for the Heat.
Lowry had his moments throughout the improbable 2023 playoff run, but Morris is nine years younger, makes almost $20 million less in 2023-24 and is one of the game's steadier table-setters.