ProSportsDaily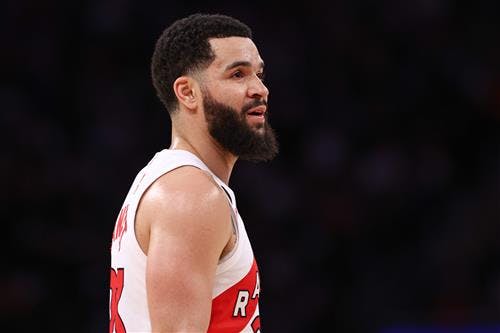 After plenty of back and forth, Fred VanVleet has decided to forgo the player option for 2023/24 and become a free agent. VanVleet turned down $22.8 million in hopes of securing the bag with a new team.
The seven year vet has spent the entirety of his career to date with the Raptors and was instrumental in helping the Raptors capture their first NBA Title in 2019.
Here are four teams that will be major players for Fred VanVleet this summer:
New York Knicks
The Knicks have been seeking a reliable point guard for some time, and VanVleet's scoring ability, three-point shooting, and defensive prowess could make him an excellent fit for their roster. Playing in a major market like New York could also provide him with increased exposure.
Dallas Mavericks
The Mavericks, led by Luka Doncic, have been in need of a secondary playmaker in their backcourt and if Kyrie Irving is on his way out, FVV could be the perfect Robin to Luka's Batman. VanVleet's ability to create shots for himself and his teammates, along with his strong perimeter defense, could complement Doncic's playmaking and provide the Mavericks with a more dynamic offensive threat.
Detroit Pistons
The Pistons are in the midst of a rebuild and could benefit from adding an experienced player like VanVleet. His leadership qualities, work ethic, and ability to score from the perimeter would provide guidance to the younger players on the team while helping improve their overall competitiveness.
Miami Heat
The Heat have a strong culture and a history of success, and VanVleet's hard-nosed style of play would align well with their identity. Additionally, his shooting and defensive abilities would fit nicely alongside Jimmy Butler and Bam Adebayo, strengthening the Heat's backcourt on the heels of an NBA Finals appearance.