Heavy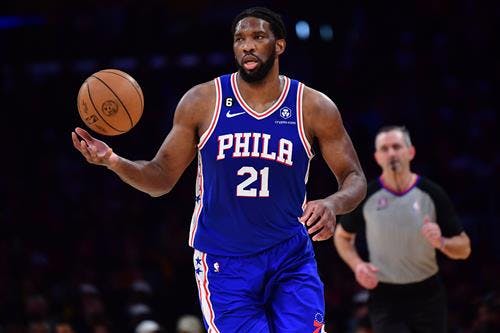 Anew "Process" would begin for the Philadelphia 76ers if the franchise ever acquired the rights to the NBA's No. 1 pick in the 2023 NBA draft, Victor Wembanyama, like The Sixer Sense's Jonathan Geib proposed. In Geib's proposal — one the Sixers Sense writer deems as unlikely –, the Sixers would send out reigning MVP Joel Embiid to the San Antonio Spurs for the potentially generational 19-year-old Frenchman to be paired with guard Tyrese Maxey.
"The Sixers would be able to restart The Process with Maxey and Wembanyama, likely the most talented young duo in the league, and have them under contract for years to come," Geib wrote. "Even though they may have a drop-off and not necessarily be competitive for the first couple of years, the future potential is terrifying for every other team in the NBA."
Meanwhile, in the Alamo City, the Spurs would be able to immediately re-tool their roster with Embiid in tow to maximize the remaining years left of Gregg Popovich's Spurs tenure, argues Geib.
"The Spurs on the other hand would be plugging in the league MVP to a cast of role players that would all benefit from the attention paid to Embiid," Geib wrote. "They would still have the cap room to sign veteran talent to build the roster around and 74-year-old Gregg Popovich would not have to stay around to coach until he was nearly 80 to reap the benefits of an NBA that might one day belong to Wembanyama."
While Geib had fun with the possibility of San Antonio and Philadelphia exchanging two transformational frontcourt forces, the Sixers Sense writer ultimately does believe Embiid is untouchable in trade talks.