Fadeaway World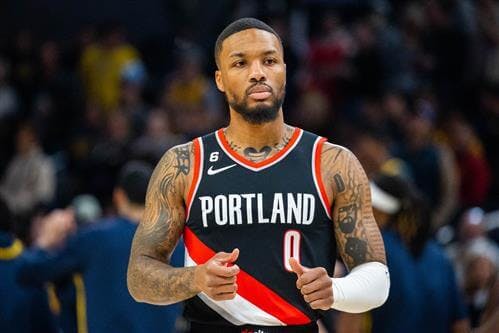 Damian Lillard has been a massive figure in the news recently because almost every critic and fan is pleading for the 7-time All-Star to leave Portland and join a better situation that will allow him to win a championship. Due to the fact that Portland is not exactly a free-agent destination and the franchise missed out on the Victor Wembanyama sweepstakes, Lillard won't have a legitimate chance to win next season. Despite the presence of Anfernee Simons (21.1 PPG and 4.1 APG this season) and 20-year-old Shaedon Sharpe (9.9 PPG and 3.0 RPG), the Trail Blazers are not built for immediate contention.
Damian Lillard seems to enjoy being a big fish in a small pond, as making All-Star Teams and averaging 30 PPG without expectations seems to be what the point guard has wanted in recent years. Of course, Lillard's salary is extremely impressive when looking at the next three seasons. Lillard will make $45,640,084, $48,787,676, and $58,545,211 until the 2025-26 season. The superstar point guard has probably built a future Hall of Fame legacy regardless of his lack of postseason success, but it might be time for the player to actually win a chip. With his former teammate and friend CJ McCollum essentially claiming Dame is done with Portland, Lillard could join four very solid franchises to actually be placed in a position to compete.
It seems that Damian Lillard is done with not having a contending roster in Portland, and finally, he could force his way out. The fact that the point guard also listed his Oregon home for sale could be another indication that Dame Time is over in Portland. There are four major destinations for the 7-time All-Star, including the New York Knicks, Boston Celtics, Brooklyn Nets, and Miami Heat. Each of these franchises would love the chance to acquire Lillard and make a push in the Eastern Conference, and here is what the trade details look like for each side.
New York Knicks
Here is what a potential trade package would look like to bring Damian Lillard to "Gotham City" and form a dynamic duo with Julius Randle.
Trade Details
New York Knicks Receive: Damian Lillard
Portland Trail Blazers Receive: Jalen Brunson, Obi Toppin, 2024 First-Round Pick From Dallas Mavericks, 2024 First-Round Pick From Detroit Pistons, 2025 First-Round Pick, 2026 First-Round Pick
The New York Knicks have been in a contending phase for at least two years now, and they are in need of a superstar player to lead their team to success. After making the second round of the playoffs, the Knicks did not have enough to make the Conference Finals. In a nutshell, Damian Lillard is one of the best point guards in the league, and he would be a perfect fit for the Knicks.
Firstly, Lillard is a proven winner. He has led the Portland Trail Blazers to the playoffs in eight seasons, and he has consistently performed at a high level in the postseason despite the team's lack of success. Lillard's leadership and experience could help them break that streak. The point guard is also a dynamic scorer. He has averaged over 20 points per game in each of the last 10 seasons, and he has a career average of 25.2 PPG. The Knicks have struggled to score in recent years, and Lillard's ability to create his own shot and knock down threes would be a huge boost to their offense.