Sportsnaut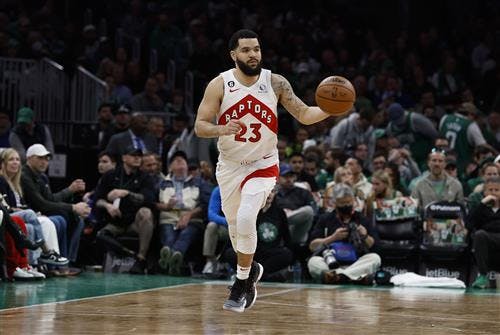 With the San Antonio Spurs winning the 2023 NBA Draft Lottery and now set up to select super-prospect Victor Wembanyama in June, there is a belief around the league the team could be a couple of additions away from being playoff contenders soon.
The NBA Lottery always draws a solid amount of interest each year. However, this edition of the event had even more attention than in recent years because French star Victor Wembanyama will be the first player taken off the board in June. So, the organization that won the lottery will have the chance to add the player viewed as the best basketball prospect since Lebron James.
Well, the San Antonio Spurs fell into historic good luck again and now have the top overall selection next month. While Wembanyama is believed to be the type of no-doubt talent that should improve them immensely in the next few seasons, the franchise actually has a huge amount of cap space (as much as $46 million) this summer, as well as draft assets.
It is something ESPN NBA insider Adrian Wojnarowski mentioned on Tuesday night in explaining the new accelerated rebuild for the Spurs.
"This is not now a slow rebuild in San Antonio. It gets accelerated with Victor. This is a player, who it is not going to be long before he is a dominant force in the NBA. This is a team with cap space. Lots of draft picks. Young players. The Spurs are going to be a contender again, and they're going to be very quickly."
– Adrian Wojnarowski
One has to assume the San Antonio Spurs will pursue impact players this summer to take the weight off the super-rookie and place him in a winning environment from day one. With that in mind, here are five star players they could target this summer.
Chris Paul
Few things can be more helpful to a young big man than a veteran floor general. When healthy, few are better at that job than future Hall-of-Famer Chris Paul. There is no doubt the Phoenix Suns will look to shop him this offseason, and with the last two years of his deal having partial guarantees, the San Antonio Spurs could see the upside of Paul tutoring the future star in the ways to win in the NBA like he has done for many other young bigs during his impressive career.
Nikola Vucevic
Four-time All-Star Nikola Vucevic will test his value on the open market this summer. The NBA can be very physically demanding and lead to injuries for young players. Victor Wembanyama has a very slight build, so adding a veteran center to be in the middle and do the dirty work instead of the star rookie would benefit all involved. Plus, it would offer the team frontcourt that is offensively efficient on the inside and outside.