Bleacher Report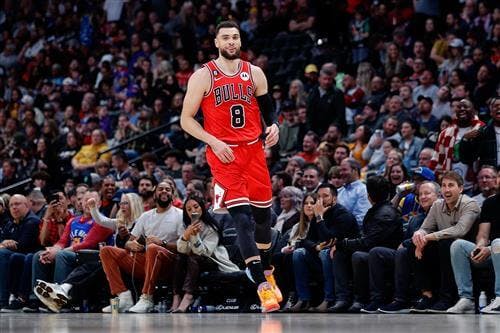 It's encouraging that so few NBA teams appear truly lost this season. It's also a little surprising.
Flattened lottery odds and the advent of the play-in tournament have discouraged tanking, but those changes also incentivize the pursuit of mediocrity—something we tend to judge harshly. Stuck-in-the middle teams typically lack premium young talent, high-volume draft equity and current stars. They aren't pushovers, but they're also miles from title contention.
Scan the league, and only four obvious options present themselves. Even among that sad-sack group, things aren't all that bad. The Charlotte Hornets have LaMelo Ball, the Chicago Bulls have Zach LaVine, the Portland Trail Blazers have Damian Lillard and the Washington Wizards have Bradley Beal. Those last three teams are also still alive in the play-in chase.
Still, all four of those squads have lost more than they've won this year. More importantly, none of them have clear routes to immediate or long-term improvement. There's a sense that each of them are just about maxed out in their growth trajectories, with troubling downsides on the horizon.
The league's worst teams don't belong here. The Houston Rockets, San Antonio Spurs and Detroit Pistons are rebuilding around young talent, and they currently share the best odds of landing Victor Wembanyama in the 2023 draft. Scoot Henderson could be a fine consolation prize at No. 2. The Indiana Pacers are already ahead of schedule with All-Star point guard Tyrese Haliburton blossoming before our eyes, and the Orlando Magic, Utah Jazz and Oklahoma City Thunder possess oodles of projectable youth and extra first-round picks.
It's a tall order, but we've cooked up offseason trades for the teams with the bleakest outlooks over the next few years. Hopefully, they'll serve as reminders that there's always a way forward—even if it means taking a few steps backward first.
Charlotte Hornets
The Trade
Charlotte Hornets Receive: Kyle Lowry and a 2027 first-round pick (top-8 protected)
Miami Heat Receive: Terry Rozier and James Bouknight
First on the list alphabetically but also probably first in terms of sheer hopelessness, we have the Charlotte Hornets. The sheer difficulty of fabricating a halfway-reasonable trade for them illustrates how dire things are.
Saddled with overpaid veterans and underperforming lottery picks, the Hornets have little reason for optimism beyond LaMelo Ball, whose season barely got started because of left ankle injuries and ended early following a fracture in his right.
The Hornets need options, and the cap relief they'd get when Lowry's $29.7 million salary comes off the books in 2024 would give them some. Gordon Hayward's $31.5 million also expires after 2023-24, freeing up a total of over $61 million just between those two contracts.
Free agency hasn't always been kind to the Hornets, and cap space won't matter as much for them as it would for a bigger-market operation. But clean books are clean books, and it's been a long time since the Hornets had them.
James Bouknight's sophomore season has been almost unfathomably bad. He's shooting 32.8 percent from the field and 25.0 percent from deep, and the most notable event of his brief NBA career had nothing to do with basketball. For the Hornets, the top-eight-protected first-rounder they're getting from Miami will be more valuable than Bouknight by default.
If a pick that won't come for another three-plus years seems too distant to be valuable for Charlotte, understand that any legitimate rebuild is going to take at least that long to get off the ground. If the Hornets get impatient—OK, when the Hornets get impatient—they can at least trade that selection or package it up with others in a bigger deal.
On the Heat's side, this is about getting off of Lowry's 2023-24 salary and adding a more productive, younger and cheaper guard in Rozier. The 28-year-old is putting up 21.4 points, 5.0 assists and 4.2 rebounds in an obvious "somebody's got to get numbers" situation this season, but his inefficiency (23rd percentile in points per shot attempt at his position) owes mainly to a lack of surrounding talent and a slightly larger role than befits his skill set. If Rozier slots in as a fourth or fifth option in Miami, we'll see a return to his days of shooting around 40 percent from deep.
Bouknight is just a flier—a 2021 lottery pick who scored the ball effectively in college and who might benefit from the militaristic discipline the Heat have become known for. It might not be the worst thing for him to get an early-career change of scenery. Miami has a strong record of getting talented players into prime shape and bringing the best out of them.
Chicago Bulls
The Trade
Chicago Bulls Receive: Ben Simmons, Cam Thomas, 2023 first-round pick, 2025 first-round pick (via PHX), 2027 first-round pick (HOU holds swap rights), 2027 first-round pick (via PHI)
Brooklyn Nets Receive: Zach LaVine
The first presumption this trade requires is the trickiest: The Bulls need to acknowledge that the way to the top, in a long-term sense, requires them to head for the bottom. Based on the team's multi-year track record of fighting hard to stay in the middle, that's a big ask.
It shouldn't be. Chicago is scrapping to make the play-in tournament, and the best-case scenario will be a quick first-round dismissal by either the Boston Celtics or Milwaukee Bucks. After that, the Bulls will head into the offseason facing Nikola Vucevic's unrestricted free agency with no realistic hope of improving on what'll almost surely be a sub-.500 record. Lonzo Ball potentially needing a third knee surgery lowers the odds of him returning healthy in 2023-24 and magically making the Bulls look like they did in their early surge last season.
No, Ben Simmons doesn't figure to make Chicago a better team next year. He's simply matching salary in a swap designed to get the Bulls the assets they'll need to undertake a deliberate rebuild.
Because his performance and availability have cratered since leaving the Philadelphia 76ers, Simmons may very well have the league's worst contract. Combined with LaVine's value as a high-end scorer, which the Nets need on a roster full of three-and-D wings, that's what earns Chicago four first-rounders and Cam Thomas in the exchange.
Those firsts coming from the Nets aren't all golden tickets. They mostly come from other teams and may not return high-lottery value, though it isn't the worst idea to bet that the Phoenix Suns will come apart by 2025 or that the Sixers will be done contending in 2027. You might argue that taking on Simmons' money should earn Chicago more draft capital, but it's not like LaVine's deal is some great bargain. He's due $178.1 million over the next four seasons and comes with real durability concerns due to multiple knee surgeries.