Bleacher Report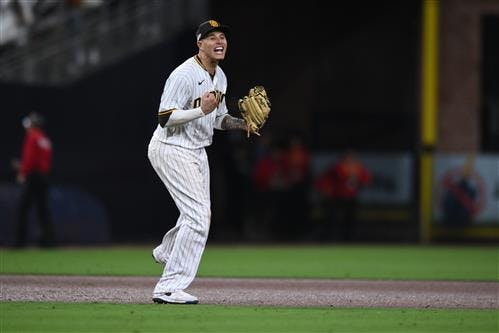 It's certainly early to be speculating about Manny Machado's next team and contract, but the subject is no longer out of bounds.
The superstar third baseman has, after all, already determined that he will be opting out of his 10-year, $300 million contract with the San Diego Padres at the end of the 2023 season. He believes he can do better than the $150 million he would otherwise be owed between 2024 and 2028, and not unjustifiably so.
"It's a business," Machado told reporters Friday. "These are things that happen. Markets change. From when I signed five years ago, it's changed tremendously. Things change and evolve for other players…it's pretty good to see."
Before we can think about where it might come from, let's first discuss the potential value of Machado's next deal.
What Is Manny Machado's Price Tag?
Exactly what Machado and his representives from the MVP Sports Group are looking for isn't public. But courtesy of Kevin Acee of the San Diego Union-Tribune, it is out there that Machado wasn't keen enough on the Padres' offer of an additional five years and $105 million to accept it.
Though a report from Bob Nightengale of USA Today stating that Machado is looking for $400 million over 10 years was characterized as "incorrect" by Tim Dierkes of MLB Trade Rumors, the six-time All-Star's target is surely somewhere between $255 and $400 million.
Machado, an 11-year veteran, will have closed the books on his age-30 season if he indeed follows through on his opt-out decision at the end of this season. He'll thus be a seasonal age older than fellow superstar infielders Trea Turner and Xander Bogaerts, who scored $300 million and $280 million, respectively, on this winter's market.
Abilitywise, however, Machado (52.0 WAR) has been significantly more valuable throughout his career than both Turner (29.7) and Bogaerts (34.9). Other figures such as a firmly above-average 126 OPS+ and a 162-game average of 32 home runs should only further bolster the chances that the total guarantee on his next deal will start with a three.
As for which teams could go that high, we can think of 10 worth discussing.
10. Miami Marlins
If for no other reason, the Marlins are worth throwing out there because Machado is a Miami native. The club's relatively clean long-term books ought to be another reason, but, well, these are the Marlins we're talking about. To sign Machado would likely require them to triple their biggest ever deal with a free agent.
9. Toronto Blue Jays
With Matt Chapman also slated for free agency after the coming season, the idea of the Blue Jays pivoting to Machado at the hot corner is one to be taken seriously. The club's books are already fairly loaded, however, and one can argue that whatever spending power they have should be put toward an extension for Vladimir Guerrero Jr.
8. Chicago White Sox
As reported by Ken Rosenthal of The Athletic at the time, the White Sox made a strong run at Machado when he was a free agent during the 2018-19 offseason: