Fadeaway World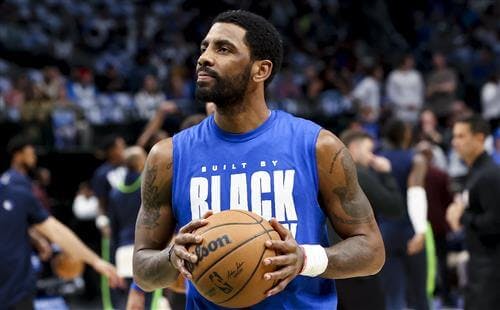 There is no doubt that Kyrie Irving is one of the greatest offensive point guards of his era and has consistently been one of the most unstoppable players in the league since his rookie season. We have probably never seen a player with better handles than Irving because the former Cleveland Cavaliers star has the ability to create any shot he wants at any time. Of course, Kyrie has consistently been a walking bucket with a career average of 23.3 PPG on 47.1% FG and 39.2% 3-PT FG.
On paper, Kyrie is as untouchable as they come. The reason is that the man is capable of carrying an offense by himself, especially as he has gained more experience over the past few years. Irving is definitely a better all-around player than he used to be and has kept the standard of his elite shooting and dribbling ability. This season, Irving is posting 27.2 PPG on 49.0% FG, 37.9% 3-PT FG, and 89.3% FT. The point guard is still one of the best offensive players in the NBA, even if he is currently playing alongside the NBA's leading scorer in, Luka Doncic.
Fortunately for Mavericks fans, Kyrie Irving was traded to Dallas before the trade deadline after another drama-filled season in Brooklyn. For whatever reason, Kyrie could not focus on basketball since joining the Nets and finally has a chance to make an impact alongside Luka Doncic. Doncic and Kyrie Irving are one of the most talented duos in NBA history, even if Kyrie cannot be trusted to stay focused on basketball. Of course, reports have come out that Kyrie Irving is not certain about his future at the moment. In other words, Irving could potentially leave Dallas in the offseason if the Mavericks do not offer him the contract he wants or if the player wants to play for another team. Remember, Irving is a free agent in the offseason, as his max contract expires at the end of this season.
To entertain the idea of Kyrie Irving testing the free agent waters, here are the top trade destinations that can see the 2016 NBA champion signing up for their franchise. While it is unlikely that a top-20 player in the league would not be offered a maximum contract, there are a ton of circumstances that could force Kyrie out of Dallas and onto yet another team. It is time to discover the best and most realistic destinations for the services of 8-time All-Star Kyrie Irving.
5. Chicago Bulls
The Chicago Bulls' season greatly depends on what management decides to do with core players, including Zach LaVine and DeMar DeRozan, on the roster. Both stars were in trade rumors before the trade deadline, but neither of them was moved as the Bulls held intact. Currently, they are nothing but an average team at best, although they have performed at a below-average level. At 26-33, Chicago is at risk of missing the postseason.
To prevent blowing up the entire roster, the Bulls might go after Kyrie Irving. Zach LaVine, at only 27 years old, could be untouchable as he is posting 24.0 PPG, 4.9 RPG, and 4.1 APG on 46.5% FG, 36.9% 3-PT FG, and 83.6% FT. The shooting guard has an elite jump shot from deep and signed a 5-year max extension with the Bulls on July 9, 2022. Of course, there is also Lonzo Ball, who is shut down for the season but is still a franchise cornerstone. Ball had a decent career so far by averaging 11.9 PPG, 5.7 RPG, and 6.2 APG, and he is an excellent defender. As solid as LaVine and Ball are, adding Kyrie Irving could shake up the East with a potential sign-and-trade involving DeMar DeRozan. DeRozan is 33 years old and heading on 34, so he is the odd man out.
A trio of Ball, Kyrie, and LaVine, brings it on both ends of the floor and creates a better core than what Chicago has right now. Losing DeRozan, who made the All-Star Team this year, is not ideal but could be necessary. Kyrie is a better shooter than DeRozan (37.9% 3-PT FG vs. 31.8% 3-PT FG) and simply a more impactful player. Dallas gains DeRozan, who brings athleticism to a Mavericks side that can pair Luka with the star wing. Dallas gave up two starters and a first-round pick for Kyrie, so instead of losing him for nothing, acquiring DeMar DeRozan is not a bad return, either.