Sportsnaut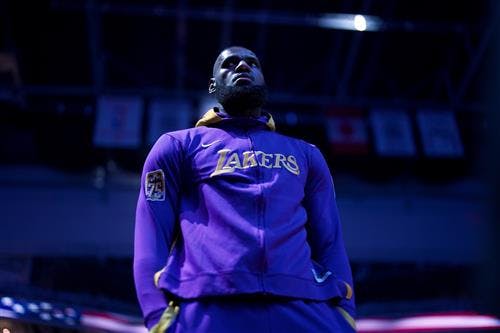 Despite the Los Angeles Lakers' current five-game winning streak, it's not a stretch to say that LeBron James is unhappy about the trajectory of the organization.
The four-time NBA champion has talked about this a lot on a public forum since Los Angeles' losing ways started a season ago. He has not been shy about it in recent weeks, either.
"I don't want to finish my career playing at this level, from a team aspect. I want to still be able to compete for championships because I know what I can still bring to any ballclub with the right pieces."- LeBron James back in late-December
Multiple teams are preparing for possibility that LeBron James will look to force trade this summer
Prior to signing a two-year extension this past summer, the 38-year-old James had expressed frustration over Los Angeles' direction. That included general manager Rob Pelinka and Co. remaining inactive ahead of the in-season NBA trade deadline last February.
It now appears that some around the Association are preparing for James to request a trade this coming summer.
"It's in the background, if you think you have a chance at him. There are preparations being made, just in case—you have to make them, like the Boy Scouts used to say, 'Be Prepared.' It will not be an easy thing to do, and there are a lot of factors. There's still a chance the Lakers make a trade this year, or that something clicks and they go on a run."- Unnamed NBA general manager on LeBron James, via Sean Deveney of Heavy Sports
James' contract extension calls for a player option following the 2023-24 season, meaning he's not necessarily locked in to the Lakers' long-term. Despite his advanced age, the future Hall of Famer continues to play at a high level.
If he were to request a trade, a number of contending teams would have interest. With that said, James would likely be able to dictate his next stop. It's why the options we have listed below are somewhat limited.
LeBron James heads to the New York Knicks
If Los Angeles were forced to trade King James, it stands to reason the team would start anew with a rebuild. Given the Knicks' surplus of draft picks and young players, a move of this ilk would make sense.
The likes of Immanuel Quickley, Mitchell Robinson, Quentin Grimes and/or Miles McBride could be used as core pieces headed to Los Angeles. Add in multiple future first-round picks, and the Lakers would be set up for success moving forward.