Fadeaway World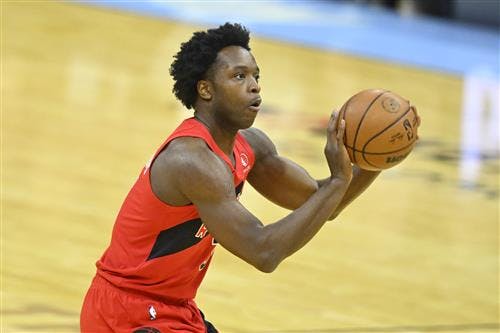 The 2023 NBA season is well underway, and the league has changed thanks to constant movements by players across teams and conferences. We are living in a time where players simply can't stay put as they look for greener pastures, while general managers and executives are also unafraid to make blockbuster deals at any given moment. For those fans that love to see exciting trades and free agency signings every year, the NBA is delivering just that at the moment.
Looking ahead to the rest of this season and even going forward, it is anticipated that there will be more player movement with regard to top players in the NBA and valuable role players. More specifically, most of these movements may happen during the offseason. Due to franchise directions or simply the need for a new challenge, there are some players right now that are destined for new teams. With their talent and skill set, they can be important pieces for winning. Here are the top 20 players most likely to switch teams this season or next offseason via free agency or trade.
Myles Turner – Free Agency
Myles Turner is a 2-time blocks champion in the NBA and will probably find a new home next year. The Indiana Pacers focused their future on Tyrese Haliburton absorbing most of the attention, and it doesn't make sense to keep Turner when he isn't wanted by the franchise as a starter or bench player. In fact, they should cash in on him while his value is high because he is only 26 years old despite playing 8 seasons in the league.
Turner is averaging 16.7 PPG, 7.9 RPG, and 2.2 BPG while shooting 39.8% from three. Turner will never be a marksman, but he is a capable knockdown shooter when he's open and has improved his stroke over the past few years. Teams needing size and floor-spacing for bigs should go for Turner because he's a modern big man, and the Pacers will probably trade him for picks as a result.
Kyle Lowry – Trade
Former NBA champion Kyle Lowry was shopped a little bit after he failed to make an impact last year with the Miami Heat, although it would be hard to find a team willing to pay quite a bit of money for a 36-year-old point guard past his prime. Rather, it seems Lowry will go to the team that will take him because the Miami Heat are in charge. The Heat are having a difficult season, and they want to make a move for another All-Star player.
Lowry is having a better year by averaging 13.4 PPG and 5.7 APG this season, respectable numbers for an aging point guard. But Lowry does seem to be in his final months with the Heat, and he belongs more on a team where there isn't as much pressure on him. The Heat are not impressed with Lowry so far, and that means the point guard could be traded before the trade deadline.
Russel Westbrook – Free Agency
Nobody knows what will happen to the Los Angeles Lakers at any given moment. They could pull off shocking wins at one point and then go on losing streaks in an embarrassing fashion. Russell Westbrook is a free agent soon, meaning there could be massive roster changes coming in the offseason. Everything the Lakers do should be to win with LeBron James because he is slowly getting older and does not have it in him to carry a team to the Finals single-handedly anymore.