Bleacher Report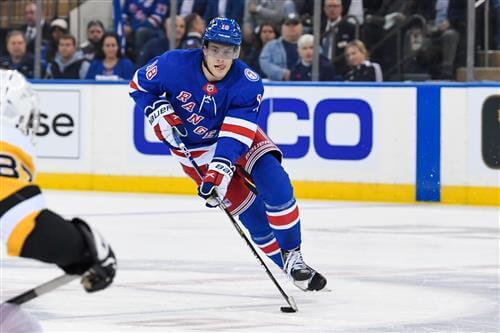 The regular season is the main measuring stick for evaluating an NHL player's performance when he's eligible to become a restricted or unrestricted free agent. However, a strong effort in the postseason can also provide a significant boost to their stock.
The regular-season production of this year's crop of prime free-agent stars, such as the Calgary Flames' Johnny Gaudreau and Nashville Predators' Filip Forsberg, assures them of big paydays regardless of their postseason numbers. The same applies to aging superstars with a proven record of success, such as the Boston Bruins' Patrice Bergeron and the Pittsburgh Penguins' Evgeni Malkin.
The postseason can help a player such as Toronto Maple Leafs goaltender Jack Campbell improve his value in this summer's UFA market. Meanwhile, a restricted free agent like the Calgary Flames' Andrew Mangiapane could get a bigger pay raise if his regular-season performance carries over into the postseason.
Here is a look at eight players among this summer's NHL free-agent class whose value could rise or fall depending on their postseason play. As always, you can express your views in the comments section below.
Jake Oettinger, Dallas Stars
In just his second NHL season with the Dallas Stars, Jake Oettinger established himself as their starting goaltender. The 23-year-old sophomore goaltender had a 30-15-1 record and a 2.53 goals-against average, backstopping the Stars into a playoff berth in the Western Conference.
Oettinger's emergence as a reliable starter came at an opportune time for the Stars. A knee injury ended the career of former starter Ben Bishop, while 2020 playoff hero Anton Khudobin struggled before undergoing season-ending hip surgery. Offseason acquisition Braden Holtby has been sidelined since March 4 with a lower-body injury.
Without Oettinger's goaltending, the Stars would probably be outside this year's playoff picture. Completing a three-year entry-level contract with an annual cap hit of $925,000, the 23-year-old could be in line for a big pay raise on his next contract.
Oettinger lacks arbitration rights this summer. The Stars could use that to their advantage by inking him to an affordable short-term deal to determine if he's capable of handling the starter's job long-term. They could make that lengthy commitment now for around $4 million annually, which could make him a steal on their cap sheet if he blossoms into a Vezina Trophy candidate in the future.
The Stars face a powerful Calgary Flames offense in the opening round of the 2022 playoffs. A strong effort on Oettinger's part could push his next contract higher, especially if he carries them to an upset over the Flames.
Andrew Copp, New York Rangers
The New York Rangers acquired Andrew Copp from the Winnipeg Jets at this year's March trade deadline. Our original assessment of that deal had him skating on their third line. Instead, he's proved to be an excellent fit on their second line alongside center Ryan Strome and superstar winger Artemi Panarin.
A versatile two-way, middle-six forward, the 27-year-old Copp had 13 goals and 35 points in 56 games this season with the Jets. He followed up with eight goals and 18 points in 16 games with the Rangers, pushing his output on the season to a career-high 21 goals and 32 assists for 53 points in 72 games before a lower-body injury cost him the final two games of the regular season.
Copp's big jump in production couldn't have come at a better time. He's coming off a one-year deal worth $3.64 million and is eligible to become an unrestricted free agent in July.
On April 29, TSN's Darren Dreger reported the Rangers will push hard to sign Copp to a contract extension. The cost of doing so, however, could grow if the winger maintains his solid chemistry with Panarin and Strome during the playoffs.
At the time of the trade to the Rangers, Copp might have earned a long-term deal worth between $4 and $5 million per season. A strong playoff performance could send the term up to seven years or the dollars to between $5.5 million and $6 million.
Ville Husso, St. Louis Blues
Ville Husso began this season backing up St. Louis Blues starting goaltender Jordan Binnington. Over the course of the schedule, however, the 27-year-old Finn outplayed Binnington, setting himself up for a nice payday in the offseason.
In 40 games played, Husso had a 25-7-6 record with a 2.56 goals-against average, a save percentage of .919 and two shutouts. Binnington, one of the heroes of the Blues' 2019 Stanley Cup run, was 18-14-4 in 37 contests with a goals-against average of 3.13, a .901 save percentage and two shutouts.
Husso is completing a two-year contract with an annual salary-cap hit of $750,000.