MLB Trade Rumors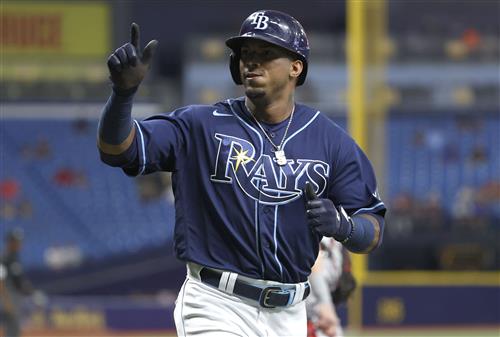 Wander Franco's big league career spans just 70 games and 104 days, but Yancen Pujols of El Caribe, a news outlet in Franco's native Dominican Republic, reports that the Rays have put forth what would be a record-setting contract offer to the 20-year-old shortstop (Twitter thread). Exact terms aren't known, but Pujols indicates that the offer is at least ten years in length and would land somewhere in the $150-200MM range. That'd go well beyond the eight-year, $100MM contract Ronald Acuna Jr. signed in Atlanta — the current record for a player with under a year of Major League service time.
The Rays are among the many teams who regularly show interest in early-career extensions. That's largely a necessity for them to retain homegrown stars, given the payroll restrictions ownership places on the front office. That said, while Tampa Bay has had some success in this regard in the past — Brandon Lowe, Evan Longoria, Matt Moore and Chris Archer all signed team-friendly extensions with under one year of MLB service time — the reported terms here would dwarf any contract ever handed out by the franchise, regardless of service time. (Longoria's second extension — a six-year, $100MM pact — is the current franchise record.)
It's easy to see why the Rays are so bullish on Franco's long-term outlook. The consensus No. 1 prospect in all of baseball for two years prior to his debut, Franco burst onto the scene at 20 years of age and slashed .288/.347/.463 with seven home runs, 18 doubles, five triples and a pair of stolen bases through 308 plate appearances. In spite of that youth, Franco looked like he belonged almost immediately — at one point reaching base in 43 consecutive games. That mind-boggling stretch, which spanned from July 25 to Sept. 29, saw Franco post a combined .329/.398/.545 batting line with more walks (9.1%) than strikeouts (8.1%). Franco went on to finish third place in AL Rookie of the Year voting despite appearing in just 70 games.
The Rays waited until late June to call Franco to the big leagues, all but ensuring that he'd avoid Super Two status under the current iteration of the arbitration system (which could change, depending on ongoing labor negotiations). As things currently stand, Franco wouldn't even be arbitration-eligible until after the 2024 season, and he wouldn't reach the open market until the completion of the 2027 campaign. A contract of 10-plus years in length would buy out all of Franco's arbitration seasons and lock in at least four would-be free-agent years — plus any additional option years that could potentially be tacked on.