Heavy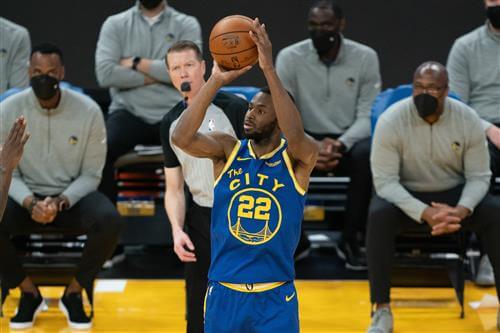 Throughout the season and into the offseason, when the Golden State Warriors surfaced in trade rumors, there was one player whose name consistently popped up — Andrew Wiggins. Now, an insider explains why the versatile forward may be very difficult to move, potentially playing into Golden State's decision to hold off on any big moves.
Prior to the NBA draft, there had been consistent rumors that the Warriors could package some combination of the No. 7 and No. 14 picks along with young center James Wiseman for a deal to land a star player. Wiggins was frequently mentioned — often as a throw-in to ensure that salaries match — but a new analysis shows that the Warriors may not be able to move him after all.
Using an analysis based on NBA contract analytics outfit ProFitX, Yossi Gozlan of Hoops Hype compiled a list of the league's "most difficult to trade" contracts. The Warriors starting wing made the list, though Gozlan noted that his trade value has risen due to his strong overall play in the last season.
Still, a contract where Wiggins' salary does not match his production makes it difficult for the Warriors to include him in a trade, Gozlan added.
"Andrew Wiggins has come a long way down this list thanks to his solid contributions to the Warriors," he wrote. "Despite his improvements, he is still overpaid by a good margin, according to ProFitX. While there could be teams interested in his services, his contract makes him a neutral value at best. Wiggins is Golden State's logical salary filler in a potential consolidation trade."
Wiggins was a valuable contributor last season, often the second scoring option behind Steph Curry as he averaged 18.6 points per game. The Canadian winger projects to remain in the starting lineup next season.