NBA Analysis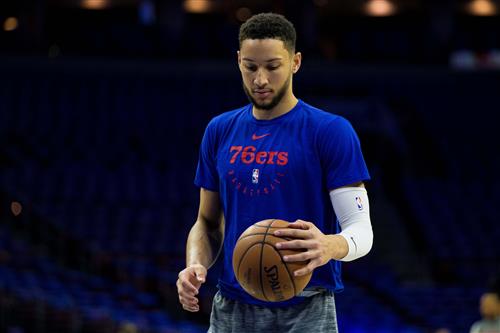 The trade saga involving Ben Simmons and the Philadelphia 76ers could be coming to an end soon. While the 76ers have told teams they are comfortable keeping Simmons on the roster heading into the 2021-22 NBA season, rival executives around the league aren't buying it.
According to The Athletic, those executives think it is a matter of when, not if, Simmons is traded away. His tenure with the organization is likely coming to an end sooner than later.
The 25-year old Simmons got involved in NBA trade rumors this offseason after yet another disappointing playoff performance. He wasn't the sole reason for the Philadelphia 76ers being eliminated in seven games by the Atlanta Hawks in the second round, but he was one of the reasons.
Simmons' reluctance to shoot the ball on offense was too much for Philadelphia to overcome in the postseason. But, a fresh start would likely do him and the organization some good.
The relationship between the two parties seems irreparable, as Simmons is no longer in communication with them. Any conversations go through his agent, as he is ready to move on with his career with a new team.
Despite his shortcomings on offense, there are plenty of teams that will want to trade for him. Here are some of the best and worst trade destinations for Simmons to land in.
Worst Trade Destination: Golden State Warriors
The Golden State Warriors have been mentioned as one of Ben Simmons's teams to be traded to. The teams have been in touch regarding a Simmons trade earlier in the offseason as well.
The Philadelphia 76ers reportedly asked the Warriors for Andrew Wiggins, James Wiseman, the No. 7 and 14 overall picks in the 2021 NBA Draft, and two future first-round picks in exchange for Simmons. That was an unrealistic trade offer, but there is still a deal that could get done here. But, that doesn't mean one should be made.
While Simmons may want to end up with the Warriors, it wouldn't be the best fit. Having Simmons in a starting lineup along with Draymond Green would be redundant. Both are non-shooters that excel as playmakers and defenders.
Steve Kerr would have his hands full trying to figure out how to make that work. Even with all-world shooters Stephen Curry and Klay Thompson on the court, it is hard to envision how an offense would run smoothly with Simmons and Green being key cogs.
Unless Green is unloaded in another deal, the Warriors would be an awkward fit for Simmons. There would be too much pressure on Curry and Thompson to carry the offensive load, especially come postseason time when the game slows down even more.