The Athletic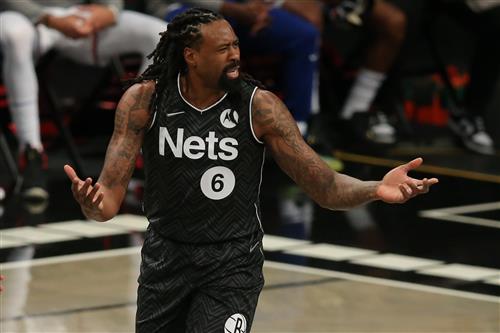 The Brooklyn Nets are trading center DeAndre Jordan, four future second-round picks and cash to the Detroit Pistons for Jahlil Okafor and Sekou Doumbouya, sources told The Athletic on Friday. Jordan is expected to sign a one-year, $2.6 million deal for the veteran's minimum with the Los Angeles Lakers once his buyout by the Pistons is complete and he clears waivers, sources said.
The Pistons plan to buy out the remaining two years and $20 million left on Jordan's contract, of which he will give back $4 million, sources said. Sources told The Athletic earlier this week that the Nets and Jordan's camp were working on a buyout and he was "increasingly unlikely to be part of the organization moving forward."
The 33-year-old did not play in the Nets' last 16 games of the 2020-21 season and playoffs. Through 57 regular-season games, Jordan averaged 7.5 points, 7.5 rebounds and 1.6 assists last season.
Brooklyn signed him to a four-year, $40 million contract in free agency in July of 2019, the same summer they added stars Kevin Durant and Kyrie Irving.
Okafor, who is entering his seventh season in the NBA, signed a two-year deal with the Pistons ahead of the 2020-21 season. He missed two months of the campaign after undergoing surgery to clean the lateral meniscus in his left knee. In 27 games, the center averaged 5.4 points and 2.4 rebounds.