NBA Analysis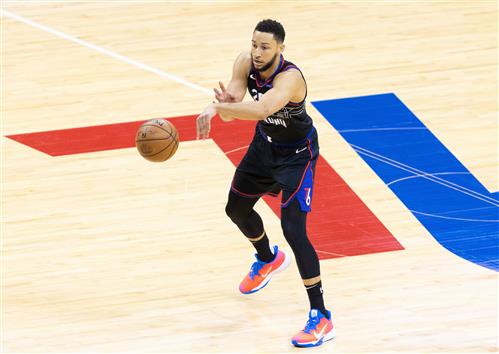 Right now, talks about moving Ben Simmons have been on-going in the Philadelphia 76ers' front-office, yet no moves have been made. Plenty of trade offers have come in and they have sent out a handful of offers involving Simmons as well, but the Sixers have been unable to find the right trade for themselves involving the 3x NBA All-Star.
Drafted 1st overall in 2016, Ben Simmons entered the league with a lot of potential to be a two-way star and he has proven to be this kind of player, averaging 15.9 points, 8.1 rebounds, 7.7 assists, 1.7 steals and shooting 56% from the floor in four full seasons.
However, after the 76ers' recent loss in the playoffs to the Atlanta Hawks, Simmons has been taking a lot of the blame because of his poor offensive showings and below 35% free-throw shooting.
Earlier in August, KRON4 News' Jason Dumas reported that Ben Simmons seems to be frustrated with his current situation in Philadelphia and has cut off communication with everyone in the organization, including the likes of Joel Embiid, with everything going through his agent, Rich Paul.
This whole saga between Simmons and the Philadelphia 76ers seems like a giant game of "cat and mouse" right now, but Philly still remains interested in moving the All-Star 7-footer if they can get a solid return for him. Plenty of teams have been interested in Ben Simmons, but could the Toronto Raptors be a team that offers up the best trade package for him?
After losing Kyle Lowry in the offseason, it seems like the Toronto Raptors could potentially take a step back in terms of rebuilding, but they do have a lot of other talents on their roster led by both Fred VanVleet and Pascal Siakam. Toronto has a lot of trade assets to offer up, which is why they could make a strong push for Ben Simmons before the start of the season.
Toronto Raptors Receive: G/F Ben Simmons, G Shake Milton, PHI 2024 1st Round Pick (Swap, More Favorable to TOR)
Philadelphia 76ers Receive: F Pascal Siakam, TOR 2022 1st Round Pick (Top-10 Protected), TOR 2023 2nd Round Pick
It seems like every single day this offseason there is new news on Ben Simmons and where he could potentially end up, but Pascal Siakam has been no stranger to headlines this offseason either.
Siakam was involved heavily in some trade rumors near the NBA Draft this year and there was heavy speculation that the Toronto Raptors would deal him for a ton of future assets.
This did not happen, even though the Kings were "highly interested" in adding the 27-year-old forward. However, Toronto could be willing to move on from Siakam if they can get a decent return, especially since they just drafted Scottie Barnes 4th overall in the draft and since they have OG Anunoby as well.
Toronto is definitely interested in the idea of adding Ben Simmons, which is why they could possibly work out a swap of Siakam for Simmons.
It is unknown what this trade could look like and who would hold more value in terms of Siakam vs. Simmons, but seeing as the Philadelphia 76ers are the ones wanting to move their All-Star, Toronto could actually end up getting a solid deal.
Shake Milton is a really solid complementary piece to get back in a deal with Ben Simmons and Toronto would also end up with a first-round pick swap in 2024. As for Philadelphia, they would be getting the All-Star they want in return for Simmons in Pascal Siakam, as well as some draft compensation in 2022 and 2023.