Fadeaway World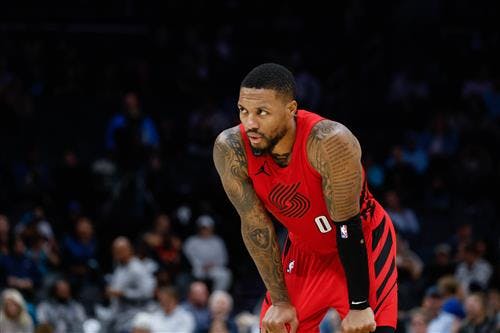 The future of Portland Trail Blazers star point guard Damian Lillard has become a hot topic of discussion among basketball enthusiasts and experts alike. Lillard, known for his incredible scoring ability, leadership qualities, and loyalty to the Blazers, has spent his entire NBA career with the franchise. However, Lillard's recent trade request has thrown the offseason into chaos, as there have been many moving parts since then. Dame has likely made it clear that he wants to only play in Miami, while the Trail Blazers are encouraging any and all teams to start making offers.
It is time to encourage the potential trade packages that could facilitate the departure of Damian Lillard from the Trail Blazers. By examining 10 compelling trade scenarios that could benefit both Lillard and his new team, there could be massive changes in both the Western Conference and Eastern Conference with a blockbuster deal for Dame. While Lillard's departure would undoubtedly leave a significant void in Portland, these packages aim to strike a balance between the Blazers' needs for the future and Lillard's desire to compete for a title.
From established contenders seeking that final missing piece to up-and-coming teams looking to build around a superstar, the proposed trade packages cater to different scenarios and aspirations across the NBA landscape. Additionally, the potential impact of Lillard's arrival on the new team is discussed, considering how he could complement existing talent or serve as the centerpiece of a revamped roster. Without further ado, here are the 10 best trade packages for Damian Lillard right now.
10. San Antonio Spurs
Trade Package: Keldon Johnson, Doug McDermott, Devin Vassell, 2026 First-Round Pick, 2028 First-Round Pick for Damian Lillard
From the Trail Blazers' standpoint, this trade package offers a mix of immediate and future assets. Keldon Johnson, a young and promising wing player, brings a solid two-way skill set, including defensive tenacity and scoring potential. His athleticism and versatility could help fill the void left by Lillard's departure, particularly on the defensive end. At 23 years old, Johnson came off a season posting 22.0 PPG and 5.0 RPG over 63 games played.
Devin Vassell, a talented young wing, offers intriguing potential at only 22 years old. His defensive prowess, length, and growing offensive game could be nurtured and developed within the Blazers' system, providing a long-term asset for the team alongside Scoot Henderson and Shaedon Sharpe. Doug McDermott, known for his sharpshooting abilities, would provide the Blazers with valuable perimeter shooting after nailing 41.3% from deep last season.
In addition to these player assets, the acquisition of two future first-round picks (2026 and 2028) enhances the Blazers' ability to rebuild and replenish their roster. These picks could be used to draft promising talent or serve as trade assets in future deals, allowing the team to shape its future more effectively. Meanwhile, the San Antonio Spurs get their man and immediately become a playoff contender. Lillard and Victor Wembanyama would become one of the best duos in the NBA and under Gregg Popovich's tutelage, the Spurs will be on the map as soon as the 2023-24 season with the likes of Jeremy Sochan playing an important role in the starting lineup.
Wembanyama is only 19 years old but has the two-way skills to make a major impact in the West alongside a superstar of Lillard's capabilities. Getting the chance to play under an all-time great head coach and the best big man of his career would also be a blessing for Lillard, who probably does not want to just join a superteam but build one of his own alongside youngsters and a new franchise.