Total Pro Sports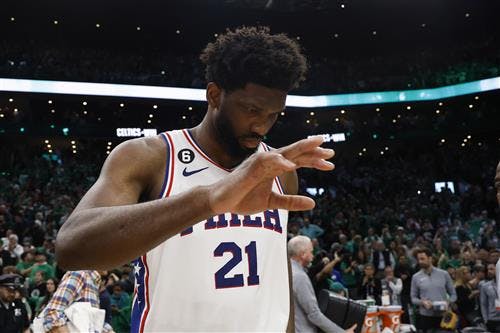 A massive trade proposal has the Philadelphia 76ers sending their franchise star to an Atlantic Division rival.
Joel Embiid is coming off a career year in which he won league MVP honors after averaging 33.1 points, 10.2 rebounds and 4.2 assists per game. Embiid won his second straight scoring title and led the 76ers to the No. 3 seed in the Eastern Conference, but they were ousted by the Boston Celtics in Game 7 of the conference semis.
Embiid hasn't requested a trade, and there are no indicators that the 76ers are looking to trade the franchise star. But what if a club like the Brooklyn Nets offered the world to Philadelphia in exchange for the future Hall of Famer?
At NBA Analysis Network, James Piercey proposed a blockbuster trade that would see Embiid going to the Nets in exchange for ex-76er Ben Simmons, Nic Claxton and a whopping six-first round draft picks:
"Ben Simmons will never play another game in a 76ers uniform. That should be obvious to everyone. If this deal transpired, more news would break shortly after. The Philadelphia 76ers and Ben Simmons are working together to find a trade partner for Simmons. Good luck with that. "