Fadeaway World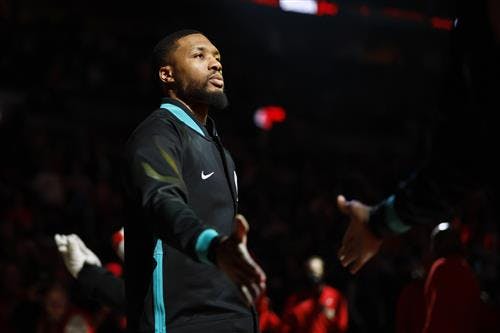 The NBA has always been a league driven by superstar talent, and the concept of superteams has become increasingly prevalent in recent years. These superteams, comprised of multiple All-Stars and MVP-caliber players, have the potential to dominate the league and reshape the balance of power. One player who has been at the center of the trade market and speculation regarding potential superteam formations is none other than Damian Lillard, the dynamic point guard of the Portland Trail Blazers.
Known for his exceptional scoring ability, clutch performances, and leadership qualities, Lillard has established himself as one of the most electrifying players in the NBA. However, despite his individual brilliance, the Blazers have struggled to build a championship-contending roster around him. As a result, the notion of Lillard joining forces with other elite players to form a superteam has gained significant attention and intrigue among basketball enthusiasts. No surprise many teams are in the running for the superstar point guard.
Fans Debate How Many Wins Would An All-Height NBA
Starting Lineup Get In A Season
Read More
From joining forces with fellow guards to forming a powerhouse duo with dominant big men, the possibilities for Dame forming superteams are enticing. As the NBA continues to evolve and teams explore new ways to assemble talent, the idea of superteams has become a captivating narrative for fans and analysts alike.
While Damian Lillard's loyalty to the Trail Blazers remains unquestionable, the allure of competing for an NBA title alongside other superstars is difficult to ignore, while Portland will go ahead with a new face of the franchise. Here are the five superteams that can be created with one of the NBA's greatest-ever point guards.
Timberwolves Big 3
Minnesota Timberwolves Receive: Damian Lillard
Portland Trail Blazers Receive: Karl-Anthony Towns, 2025 Second-Round Pick from Utah Jazz, 2026 Second-Round Pick from Utah Jazz
The Minnesota Timberwolves have lacked a franchise point guard to lead their team despite the acquisition of veteran Mike Conley. Acquiring Damian Lillard would address this need and provide the Timberwolves with a high-caliber playmaker and scorer at the point guard position. Lillard's ability to create offense, run the team, and his reputation as a clutch performer would significantly elevate Minnesota's offensive capabilities and overall competitiveness.
The Timberwolves have a promising young player in Anthony Edwards, who has shown immense potential as a scoring guard by making his first All-Star Team. Pairing him with Damian Lillard would create an exciting backcourt duo capable of generating significant offensive firepower. Lillard's experience, leadership, and ability to take over games would complement Edwards' scoring prowess and potentially accelerate his development as a player.
Despite Karl-Anthony Towns' talent, the Timberwolves have struggled to find consistent success in recent years. In this trade scenario, the decision to trade Towns for Lillard could reflect a desire for a change of direction and a shake-up in the roster. The Timberwolves might view Lillard as a player who can provide a new identity and help them establish a winning culture.
Finally, Damian Lillard is a well-established superstar with a large fan base and significant marketability. Acquiring him would not only have on-court benefits but also positively impact the team's ticket sales, fan engagement, and overall brand visibility. Lillard's presence would generate excitement and draw attention to the Timberwolves, potentially leading to increased attendance and a more passionate fan base. Remember, the Timberwolves are one of the five franchises that have never made an NBA Finals, and that needs to change immediately.