The Big Lead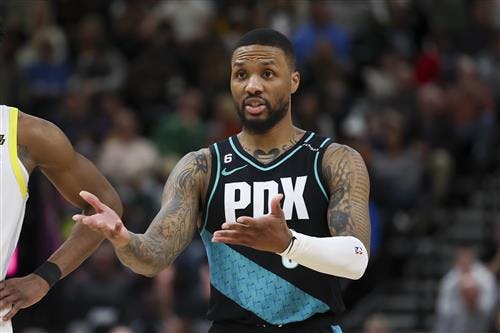 It is the NBA offseason, AKA Damian Lillard trade rumor SZN. If you've been on the internet over the last week you know why this article is being written. Lillard is 32 years old and coming off his best season. The window for him to win a championship as the central player on a roster is rapidly closing. The Portland Trail Blazers, knowing this, still selected Scoot Henderson in the NBA Draft last Thursday instead of flipping him or the pick for a veteran player capable of helping drive the team to championship heights this season.
This sequence of events feels like it is paving a road to Lillard finally asking the Blazers to trade him. The superstar point guard probably has "loyalty" literally tattooed on his body somewhere given how often he talks about it, but the Blazers simply are not going to push all their chips into the middle right now. The latest report from Brian Windhorst on Tuesday claims Lillard wants to wait and see what Portland does in free agency before doing anything drastic.
That's all well and good but the Blazers are going to struggle to do much in free agency. Their cap sheet is pretty loaded already and that's before they presumably attempt to re-sign Jerami Grant. Once they do that the best thing they can do is trade Anfernee Simons and/or Jusuf Nurkic, who have very different values but share the common trait of other teams knowing the Blazers want to move them. So finding a good deal might already be off the table and Portland will seriously consider rolling into next season with largely the same roster plus Henderson.
That is both the likeliest outcome and the most undesirable for Dame. Unless the Blazers pull off something crazy, Lillard becoming unhappy with the direction of the team seems inevitable. Thus, let's break down the teams who could possibly make a move for Lillard if it comes down to a bidding war.