Bleacher Report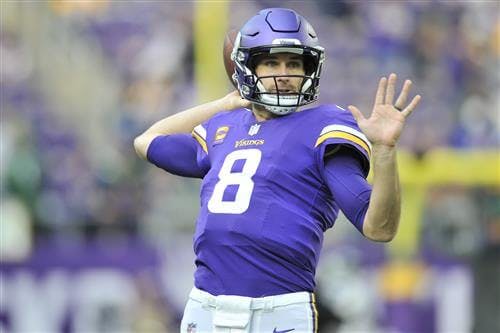 Quarterback is undoubtedly the most important position in the NFL, and the teams that don't have elite signal-callers are searching for them. This is why, for all but the league's best quarterbacks, job security can be fleeting.
Kirk Cousins, for example, could be entering his final campaign with the Minnesota Vikings, despite making three Pro Bowls in five seasons with the franchise. He'll be a free agent next offseason and doesn't expect to have contract talks until then.
"I think we'll probably talk about the contract next March," Cousins said, per ESPN's Kevin Seifert. "Until then, [we'll] just focus on this season and the job to do right now."
Cousins has shown flashes of being very good, but "very good" isn't quite enough in today's NFL. Ultimately, teams opt to move on in the search for greatness.
Below, we'll examine six quarterbacks who are the most likely to change teams in 2024. We'll look specifically at projected Week 1 starters or quarterbacks expected to compete for the starting job, while excluding placeholders for incoming rookies. We'll also examine the individual reasons why each of them could be on the move in less than a year.
Kirk Cousins, Minnesota Vikings
There's plenty to like about Cousins as a quarterback. The 34-year-old has made four Pro Bowls, has a career 97.8 passer rating and just helped Minnesota win 13 games.
However, Cousins has also failed to lift the Vikings to the ranks of serious playoff contenders. He's gone just 1-3 in the playoffs (1-2 with Minnesota) and hasn't earned a playoff win since the 2019 season.
If Cousins can't deliver postseason success this year, the Vikings may not be interested in re-signing him next March. The reality is that this is a rebuilding team, and the offseason releases of Adam Thielen and Dalvin Cook serve as proof.
However, general manager Kwesi Adofo-Mensah cannot afford to blow things up at quarterback just yet because of Cousins' contract. His $20.3 million 2023 cap hit and the $48.8 million in dead money remaining on his contract are fully guaranteed.
While Minnesota will owe Cousins $28.5 million in dead money next year, it will owe that whether or not he's on the team. Unless Cousins proves that he's the quarterback who can end the Vikings' lengthy Super Bowl drought—their last appearance was in 1976—they'll likely move on to look for one who can.