Heavy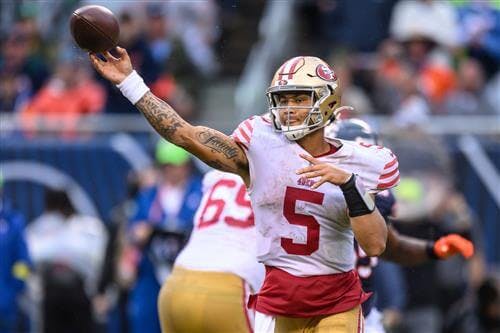 The San Francisco 49ers are being linked to a major trade that would completely shift the dynamic at the quarterback position. However, the idea of adding Minnesota Vikings pass rusher Danielle Hunter is enticing enough to consider.
There has been non-stop speculation about 49ers quarterback Trey Lance's future as the third-year player prepares to compete with Brock Purdy for the starting job. However, the 49ers could potentially eject on that situation by trading Lance to the Vikings.
Niners Wire analyst Kyle Madson recently explored a trade proposal that would send Lance and a fourth-round pick to Minnesota in exchange for Hunter.
"All of [Hunter's] pass-rushing success is accompanied by consistently strong run defense that allows him to stay on the field for all three downs," Madson writes. "Edge defenders of Hunter's caliber don't typically come available, which is why the 49ers have to at least poke around on a possible deal."
It's a sensational proposal to say the least, and it would allow the 49ers to gain a top-level player in exchange for Lance. However, the idea hinges on San Francisco wanting to move on from the former NDSU quarterback and they haven't indicated that's what they want.