Clutch Points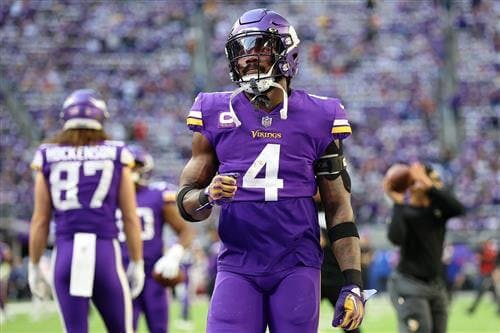 After years of maintaining one of the most efficient rushing attacks in the NFL, the Minnesota Vikings could barely get anything going on the ground last year.
Minnesota averaged the fifth-worst rushing yards per game in the league. Star running back Dalvin Cook posted the lowest yards per carry of his career and only surpassed the 100-yard mark twice in 17 games.
Cook is due $14.1 million this season — making him the third-most expensive player on the Vikings roster — and is under contract through the 2025 campaign. The Vikings would save a significant amount if they release Cook, but trading their rushing leader would be much more beneficial.
In the NFC East, the Dallas Cowboys are in need of a complementary back to Tony Pollard after (likely) losing Ezekiel Elliott in free agency. It is time to make a deal happen.
Cook would be perfect for the Cowboys
Tony Pollard was one of the most efficient running backs in the NFL last season, rushing for 1,007 yards on just 193 carries (5.2 yards per carry). He also added 55 catches out of the backfield.
Part of what allowed Pollard to be so successful was the tough yards earned by Ezekiel Elliott. Elliott carried the ball 231 times while averaging a career-low 3.8 yards per attempt and making only 17 catches. The Cowboy icon did hit paydirt 12 times, a reflection of his value in short-yardage situations.