Bleacher Report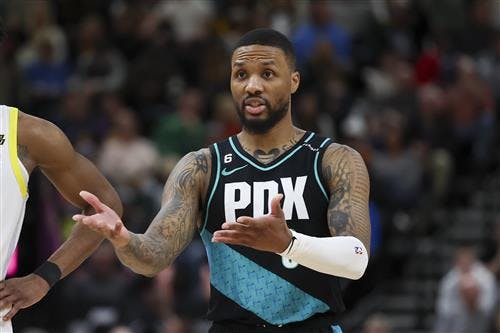 We haven't even made it to the conference finals, but the NBA's rumor mill is already churning.
And seemingly every offseason, we're surprised with a handful of win-now moves that alter the landscape of the league. Often, they're blockbusters.
As we pick through that mill, plenty of names surface, and these are the ones whose potential departures would define the lead-up to 2023-24.
Ayton to the Mavs
The Trade: Deandre Ayton for Tim Hardaway Jr., JaVale McGee and a 2027 first-round pick
The Phoenix Suns are officially out, and a summer breakup with Deandre Ayton still feels like a real possibility.
"Ayton would be excited about a fresh start with another franchise," ESPN's Tim MacMahon wrote after Phoenix's Game 6 loss. "The Suns are expected to aggressively explore the trade market for him this summer."
With Chris Paul (for now), Devin Booker and Kevin Durant all on the team, there just isn't much need for a face-up center like Ayton. In the Suns' second-round series with the Denver Nuggets, he lost a lot of his role to Jock Landale, a lower-usage, higher-energy big who just sort of allows KD and Booker to do their thing.
So, it may not be all that surprising that some potential trade vultures may already be circling.
According to Bleacher Report's Eric Pincus, "The [Dallas] Mavericks might have an eye (via trade) on Phoenix Suns center Deandre Ayton."
Dallas doesn't have a ton to offer (unless they make Kyrie Irving available in a sign-and-trade), but after the last couple years, Ayton's trade value might not be all that high, either.
Tim Hardaway Jr. would give the Suns a dedicated floor-spacer who could flank isolation or pick-and-roll action from KD or Booker. And McGee would be another try-hard (like Landale) who also brings championship experience.
The real prize, though, would be a first-round pick for a team with two stars in Kyrie (assuming he's re-signed) and Luka Doncic who could grow impatient without a title run (that's just the NBA these days, folks).
Of course, the Mavericks wouldn't make a deal like this without thinking it moved them closer to that ultimate aspiration. And while you might have a similar issue with the ball dominance of Luka and Kyrie, the former is obviously a more natural playmaker than either Suns superstar. Doncic could help make Ayton one of the game's better pick-and-roll options.
And while he's no Rudy Gobert around the rim, Ayton has improved as a defender over the course of his career. And the interior defense was already pretty bad this season (Dallas was 21st in field-goal percentage allowed at the rim and middle of the pack in the percentage of total shots allowed in there).