Clutch Points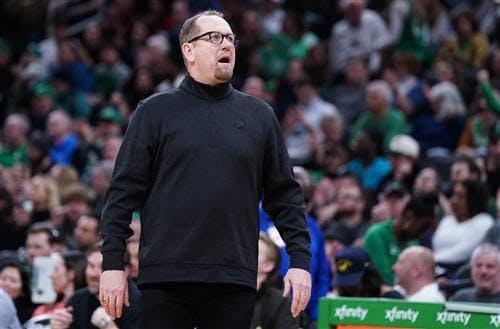 The NBA is becoming an increasingly impatient kingdom where the ruling owners harshly overlook the recent accomplishments of their "fall guy" head coaches. That is not jarring for anyone who followed the George Steinbrenner New York Yankees or are familiar with soccer's wild coaching carousel. But the firing of Milwaukee Bucks head coach Mike Budenholzer is harder to decipher in this era.
The No. 1 seed in the Eastern Conference was ousted by the Miami Heat in five games in the opening round of the NBA Playoffs after enduring injury problems, multiple fourth-quarter collapses and the postseason powers of Jimmy Butler. It was considered a disappointment by all and a failure by (ahem) most. Even so, the franchise's 2021 NBA Championship was supposed to earn Budenholzer plenty of good faith.
It did not. His firing is especially confusing given what has since come to light. Budenholzer's brother died in a car accident right before Game 4 of the series. There could be more to come out of this story, but the initial optics are devastating for the organization. I guess the "no failure in sports, steps to success" argument did not apply to the two-time Coach of the Year.
Relax, this is not a hit piece on Giannis Antetokounmpo. Even non-Bucks fans can remember that Budenholzer was on the hot seat before the title run, suffering upset losses in multiple past postseasons. But this felt like the most excusable pitfall given all of the circumstances.
Despite a lengthy prelude, this is not the time to sort out this firing. A new man in charge will emerge soon enough. There are multiple candidates that are deserving of the opportunity, but it is imperative that the organization brings in a coach who will meet their lofty expectations when it matters most. Otherwise, this decision will age as terribly as a recent press conference (I'm a Giannis guy I swear).
Here are the three best head coaching candidates the Bucks must hire after firing Mike Budenholzer.
1. Nick Nurse
Milwaukee is not looking to hit the reset button. Many consider Antetokounmpo to be the best player in the league. This is a group still able to contend for titles. The new head coach will reflect that timetable and be someone who can comfortably step in and take an already talented team to the next level. Nick Nurse is the only legitimate candidate who fits that crucial criteria.
Furthermore, he has experience dealing with polarizing and awkward regime changes. Nurse took over for the then-reigning Coach of the Year Dwane Casey and helped guide the Toronto Raptors to their first championship in franchise history in 2019. The Kawhi Leonard factor can't be ignored, but while he load managed during the regular season (60 games), Nurse fortified a strong supporting cast that blossomed to their exceedingly bright potential.