Bleacher Report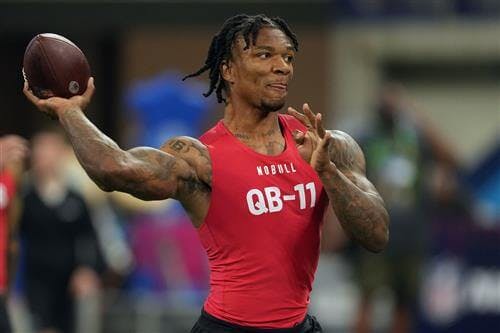 As the NFL draft draws closer by the day, there are some positions where the draftnik community is gathered neatly in a row, nodding as one. Everyone agrees that Bijan Robinson of Texas is the No. 1 running back prospect in this class. Just about everyone also believes that Alabama's Will Anderson Jr. is the best edge-rusher available.
But they don't agree all the time. Oh, no. In fact, with some players, things are split right down the middle. One group is sure those prospects are stars in the making. The other is equally certain those same players' limitations will eventually relegate them to the annals of bust-dom.
Of course, talent isn't the only consideration. Landing spots matter—a lot. For some, it's important they play in a scheme that accentuates what they do well while masking what they do not. For others, it's a matter of having time to develop and acclimate to the NFL. Or to have a strong supporting cast that will help mitigate the pressure early on.
For every polarizing prospect, there's an ideal landing spot or three—teams that offer an increased chance for success.
Now it's just a matter of hoping those players and the right team come together.
Anthony Richardson, QB, Florida
Most folks consider quarterback the most important position in the NFL. So the most polarizing player at the position has to be mentioned off the jump.
That player is Anthony Richardson of Florida.
Richardson's supporters point to his 6'4", 244-pound frame, 4.43 speed and rocket right arm and see Josh Allen meets Lamar Jackson. Detractors point to a completion percentage south of 55 in college and see Kyle Boller meets Jake Locker.
Both sides may be right. Richardson's physical gifts are undeniable. But so is the fact that he's raw as a prospect. He's not a quarterback who will be ready to start right away. And his future prospects hinge largely on landing with a team that can afford to be patient with him.
Ideal Landing Spots
Detroit Lions: In Jared Goff, the Lions have a solid starter under center. But he's not a difference-maker, and he carries a cap hit north of $30 million in each of the next two years. The Lions could save more than $26 million by releasing or trading Goff a year from now.
Las Vegas Raiders: The Raiders signed Jimmy Garoppolo as a short-term solution under center, but he's a 31-year-old on his third team and has a lengthy injury history. However, he's also a consummate pro who has already shown he can be a grownup about a team drafting his successor.
Seattle Seahawks: This one isn't especially likely after the Seahawks re-upped Geno Smith for three years in the offseason, but there are outs for the team in each of the next two years. The Seahawks have plenty of offensive weaponry, and there would be no huge rush to get Richardson on the field.