Clutch Points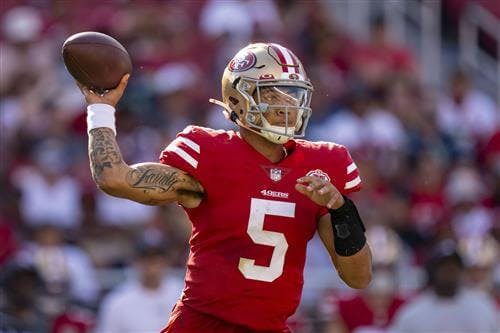 The Trey Lance trade rumors are heating up following a report saying the San Francisco 49ers have fielded calls from teams on the matter. Between the emergence of Brock Purdy last season and the 49ers' lack of draft capital due to the Christian McCaffrey trade and the initial trade-up to get Lance in the first place, San Francisco could stand to recoup some picks for the QB. If this is truly happening, here are the four best Trey Lance trade destinations.
Trey Lance was the No. 3 overall pick in the 2021 NFL Draft. In his rookie season, he mostly sat behind Jimmy Garoppolo. In year two, the team made Lance the starter, but a season-ending ankle injury put him on the shelf in Week 2.
After an injury to Garoppolo sidelined him as well, the last pick of the 2022 NFL Draft, Brock Purdy, came in and miraculously led the 49ers to the NFC Championship Game. Jimmy G is now with the Las Vegas Raiders, and although Purdy is recouping from an injury of his own this offseason, "Mr. Irrelevant" is now the San Francisco signal-caller of the future.
This makes Lance expendable and is why the Trey Lance trade rumors are believable.
4. Tampa Bay Buccaneers
The Tom Brady Era is officially over for the Tampa Bay Buccaneers, and Baker Mayfield and Kyle Trask are the GOAT's replacements. If that doesn't instill confidence in a Buccaneers fan, you're surely not alone.
Tampa Bay (barely) made the playoffs last season, so they have the No. 19 pick in the 2023 NFL Draft. That's likely not high enough to take one of the top four quarterbacks in this year's class. So, unless the team wants to take a gamble on a player like Hendon Hooker or a later-round QB, Mayfield and Trask will be the QBs this season.
If the Buccaneers had Lance as a top-three pick in 2021, spending a lower-round pick or two on him just two years later would make a lot of sense. This would start a softer rebuild than the one that may happen in Mayfield and/or Trask runs the team into the ground this season.