Bleacher Report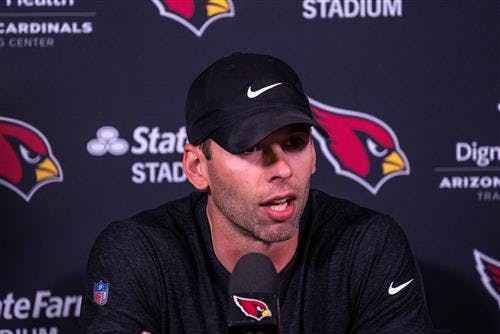 The draft is the highlight event of the NFL offseason. It's a weekend filled with hope positivity and fun while also being unpredictable. We may think we know what teams are going to do, but trades can quickly alter the draft picture significantly.
Last year, we saw nine trades occur during the first round alone. We've already had one pre-draft trade, as the Carolina Panthers moved up to No. 1 overall. More opening-night deals will inevitably follow.
We recently took a look at one trade that could benefit each NFL franchise. Not every team will be wheeling and dealing on opening night, but some will with particular trade scenarios being far more plausible than others.
Here, we'll rank the seven most plausible trades we expect to see or at least see discussed on opening night. Factors like draft positioning, team needs, the Bleacher Report Scouting Department's latest draft rankings and any relevant recent buzz will be taken into consideration.
First, though, let's check out an honorable mention.
Honorable Mention: Arizona Deals One of Its Standouts
The Arizona Cardinals and star wideout DeAndre Hopkins have been the subject of trade rumors throughout the offseason. However, the latest intel suggests that teams aren't eager to pick up Hopkins' 2023 salary and that he's also a candidate to be released.
ESPN's Jeremy Fowler said the following on SportsCenter (h/t Bleacher Report's Joseph Zucker):
"Teams I've talked to believe the Cardinals haven't really been willing to pay the salary," he reported. "He has $19.5 million on the books. That's a little rich for some of the receiver-needy teams out there."
Fowler also noted that the 30-year-old "is largely expected to be on the move, either via trade or release."
Hopkins could be dealt over draft weekend, but it's starting to feel like any trade will occur after the draft—when a receiver-needy team that didn't pick up a top prospect becomes more desperate. Teams may also be willing to wait and see if Hopkins simply hits the open market.
The Cardinals could also look to move Pro Bowl safety Budda Baker, who has requested a trade, according to ESPN's Adam Schefter. It's certainly a situation that bears watching, but new head coach Jonathan Gannon may not be willing to acquiesce.
Gannon is a defensive coach who will be tasked with improving an Arizona defense that ranked 31st in points allowed last season. Baker is one of the team's best defenders, and keeping him should be a priority for the new regime.
This is another potential trade that may happen after the draft, when Arizona has a better idea of its roster and replacement options.
7. Lamar Jackson on the Move
The uncertain future of Lamar Jackson has been arguably the biggest story of the 2023 offseason. The Baltimore Ravens gave the signal-caller the non-exclusive franchise tag, meaning he is free to sign another team's offer sheet. Jackson has also requested a trade from the organization.
However, no team has moved on the 2019 MVP yet, and the longer Jackson idles, the more likely it seems that he'll simply sign his franchise tender and eye 2024 free agency. This is why this trade isn't ranked higher on our list.
Until that happens, though, the possibility that Jackson won't return remains real. According to ESPN's Jamison Hensley, recently signed Ravens receiver Odell Beckham Jr. stated that while Jackson helped recruit him to Baltimore, he gave the wideout no assurances that he would play with him this season.
If Jackson hasn't signed his tender and doesn't have a new contract before April 27, Baltimore may rip off the proverbial Band-Aid and move Jackson. It could become motivated to do so if a team picking near the top of the draft—like the Indianapolis Colts—can give the Ravens a shot at a top QB prospect.
"My bet is the Ravens would take the fourth pick in the draft, solely, for Jackson," Peter King of ProFootballTalk wrote.
Indianapolis has a chance to draft its quarterback of the future, but there's no guarantee its preferred prospect will still be on the board at No. 4. If that happens—or if another quarterback-needy team is in a similar situation—a draft-day Jackson trade just might get done.