Bleacher Report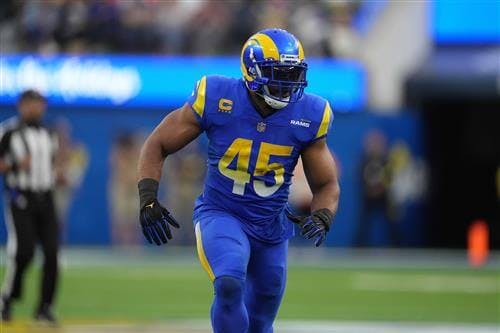 NFL free agency officially opened at 4 p.m. ET on Wednesday. However, the market has been unofficially open since noon ET on Monday, when the legal-contact period began.
Many of the top free agents came off the board in the first two days of free agency, and Wednesday was another busy day. Players who agreed to deals on Day 3 include tight end Hayden Hurst, linebacker Cole Holcomb, wideout JuJu Smith-Schuster, safety Jordan Poyer and tackle Orlando Brown Jr.
Bleacher Report's grades for free-agent signings and trades on Day 3 can be found here.
While the initial wave of free agency is coming to an end, plenty of talent remains unsigned. Below, we'll dive into the top 30 remaining free agents based on factors like past production, upside, age, positional value and health.
Nos. 30-26
30. S John Johnson III
The Cleveland Browns released safety John Johnson III on Wednesday. He should draw interest on the free-agent market.
Johnson, who was signed by the Browns in 2021, never became a top-tier safety in Cleveland, but he was a serviceable starter. He logged 101 tackles this past season and allowed an opposing passer rating of 82.8 in coverage.
29. DT Greg Gaines
Defensive linemen are being gobbled up quickly, and it wouldn't be a shock to see Greg Gaines land a deal soon.
The 26-year-old is a strong run defender who can also rush the passer from the interior (8.5 sacks over the past two seasons). He had a more productive season in 2021 than he did last year, but he's a young, productive defender who should land a starter's contract in the coming days.
28. TE Robert Tonyan
Tight end Robert Tonyan looked to be a rising star in 2020 when he tallied 586 receiving yards and 11 touchdowns. However, he suffered a torn ACL in 2021 and didn't look like quite the same player in 2022.
However, Tonyan still caught 53 passes for 470 yards and two touchdowns this past season in an inconsistent Green Bay Packers offense. He's one of the top tight ends available, and if he can return to pre-injury form, he could be one of the steals of the 2023 offseason.
27. RB Damien Harris
Is Damien Harris a high-end every-down running back? No. He has limited receiving ability and has caught a mere 40 passes in 38 career games.
Is Harris a bruising runner who can pound the rock and wear down a defense? Yep. He logged 929 rushing yards as the New England Patriots' starter in 2021 and has averaged 4.7 yards per carry during his pro career.
26. TE Mike Gesicki
Tight end Mike Gesicki saw his stock take a hit this past season as he wasn't a great fit for Mike McDaniel's offense with the Miami Dolphins—he was also less of a priority in the passing game with Tyreek Hill and Jaylen Waddle both on the roster.
In 2022, Gesicki caught just 32 passes for 362 yards and five touchdowns. In 2021, however, he caught 73 passes for 780 yards and two scores. Though he's not a great blocker, Gesicki can be an upper-echelon receiving tight end in the right offense.