CBS Sports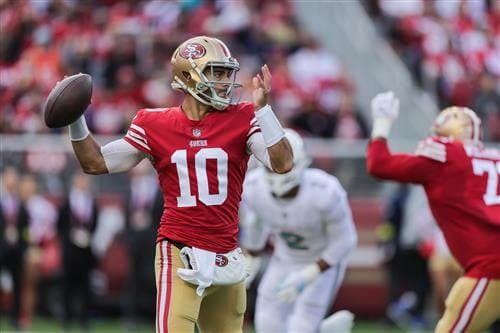 The NFL offseason has already been relatively wild. We saw Tom Brady retire again, Sean Payton return to the NFL to coach the Denver Broncos and Aaron Rodgers is meditating in darkness. Whatever visions he sees in the pitch black will have major ramifications on the NFL world.
With a loaded 2023 NFL Draft class, free agency right around the corner and a quarterback carousel that could be full of surprises, this NFL offseason is sure to dominate headlines once again. Plus, we could see a couple of record-breaking quarterback contract extensions.
What does the future hold for Rodgers as well as Derek Carr and Jimmy Garoppolo? What kinds of changes are coming to the league this offseason? Below, we will break down 10 crazy predictions for the NFL offseason.
10. Jimmy Garoppolo signs with the Buccaneers
With the San Francisco 49ers' decision to tab Trey Lance to start the 2022 season followed by the emergence of new starting quarterback Brock Purdy, Jimmy G will be on the move this offseason. My wild prediction is that he proves time is a flat circle by replacing his former teammate, Tom Brady, under center in Tampa.
Is Garoppolo someone who can command an elite air attack? Probably not, but the Buccaneers aren't exactly in a great position to tank. Look at this roster on paper: They have talent on both sides of the ball. I say go sign a quarterback with starting experience and see what you can do.
9. Derek Carr signs with the Jets
After all of us witnessed Zach Wilson's struggles last season, the Jets are going to be looking to add another quarterback. They may want a veteran who has plenty of experience as a starter, so Carr could fit in here. The Jets have underrated talent in the backfield and at wide receiver. Adding a quarterback who can just be a consistent presence under center would make New York better immediately. Carr isn't high on my QB power rankings, but I really think the Jets could be contenders if they upgrade at the most important position.