Clutch Points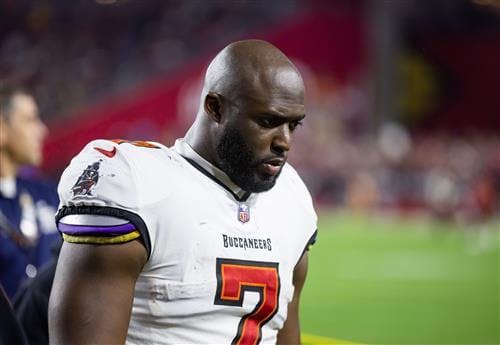 After the Leonard Fournette release, the future is uncertain for the 28-year-old running back. The No. 4 pick of the 2017 NFL Draft never quite lived up to his lofty expectations, but he became a solid contributor on a Super Bowl team with the Tampa Bay Buccaneers in recent years. And in that capacity, the running back still has value to contending teams like the Philadelphia Eagles and Jacksonville Jaguars.
With that in mind, here are the four best landing spots for the running back following the Leonard Fournette release from the Tampa Bay Buccaneers.
4. Los Angeles Chargers
The Chargers need to improve the offense around Justin Herbert this offseason, and most of that is at the pass-catching positions. However, they could stand to diversify the team's running back group as well.
There are a lot of RBs under contract for 2023 — Austin Ekeler, Josh Kelley, Isaiah Spiller, Larry Rountree III, and Zander Horvath — but most of them offer similar skill sets. Of that group, Isaiah Spiller is the closest to Leonard Fournette, but in 2022 the rookie suited up for just six games and had 41 rushing yards.
Fournette can give the Chargers a battering ram-style back who takes some of the workload off of smaller RBs Ekler and Kelley. Also, he can take short-yardage carries to take some wear and tear off Herbert in those situations.
Plus, the new Chargers offensive coordinator is Kellen Moore, who spent the last four seasons as the OC of the Dallas Cowboys. In that position, Moore used Ezekiel Elliott to pound the rock a lot, and he stuck to a pretty equal load share between Elliott and change-of-pace back Tony Pollard.
Adding Leonard Fournette to Ekeler and Kelley would create a similar situation to what Moore had in Big D.