Bleacher Report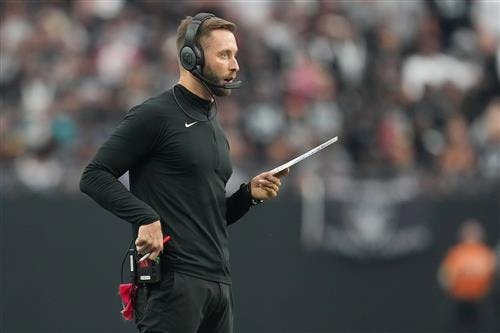 It doesn't take long for seats to start getting warm when you're an NFL head coach.
Nearly a third of the NFL franchises hired a new head coach coming into the 2022 season. The year before that there were seven new head coaches.
Some franchises are in a position to have some patience with their coach. Teams in the middle of a rebuild that just hired someone aren't likely to be putting anyone on the chopping block this early.
But there are definitely coaches who entered the season on a short leash or who aren't living up to massive expectations that need to get things turned around quickly.
Just three weeks into the season there might not be any imminent firings coming, but it's not too early to start seeing the writing on the wall for some. These six coaches are going to need to get things going soon.
Dennis Allen, New Orleans Saints
One would think Matt Rhule would be the NFC South representative on this list. After all, the Panthers are just 1-2, and he's now 11-25 as the lead man in Carolina.
However, Ian Rapoport of NFL Network reported that Panthers owner David Tepper is taking a patient approach with his head coach. No move is imminent, and "it would take an epic collapse or a horribly embarrassing outcome to alter the course."
Then Rhule's team went out and beat the Saints 22-14 on Sunday.
That's great news for Rhule and potentially bad news for Dennis Allen.
Every move the Saints made this offseason pointed toward them believing they didn't need to rebuild. When Sean Payton retired they simply promoted Allen from defensive coordinator. They traded, in part, a future first-round pick along with a future second to acquire two firsts this year from Philadelphia.
They pushed their cap problems another year down the road and are on track to be $63.8 million over the cap next season.
Thus far, the bet that Allen could keep the team competitive and in win-now mode hasn't paid off. The offense has scored just 51 points in three games, and the team's only win was a one-point nail-biter against the Falcons.
Jameis Winston is playing through a back injury. He had two fumbles and threw two interceptions against the Panthers.
Allen is still sticking with him as the starter. That could be a decision he comes to regret.
Pete Carroll, Seattle Seahawks
When the Seattle Seahawks traded away Russell Wilson this offseason it was an acknowledgment that a fun era of Seahawks football was over.
After this season, it's beginning to become apparent the next era might need to start with a new head coach.
There's no denying that Pete Carroll is the most successful coach in Seattle history. And an opening-week win over Wilson and the Denver Broncos appeared to be a sign that Carroll could be the man to rebuild this roster and compete again.
Two weeks later, it's clear that isn't the case.
While the offense has done well considering Geno Smith is the starting quarterback, the defense is the worst it's been during his tenure. After a hot start against the Broncos they've given up 54 points over the last two weeks.
They made Cordarrelle Patterson look like one of the best running backs in the league with 141 yards on 17 carries.
Then there was a 4th-and-2 on the 7-yard line where Carroll elected to kick a field goal rather than keep the drive alive inside the 10. After the game, Carroll said they were "a little out of whack," per Gregg Bell of the Seattle News Tribune.
Carroll is 71 years old and is showing signs of losing his fastball. There's a high likelihood the Seahawks are breaking in a new young quarterback next season. If Carroll doesn't get things turned around, he'll be passing the torch to a new head coach by season's end.