Bleacher Report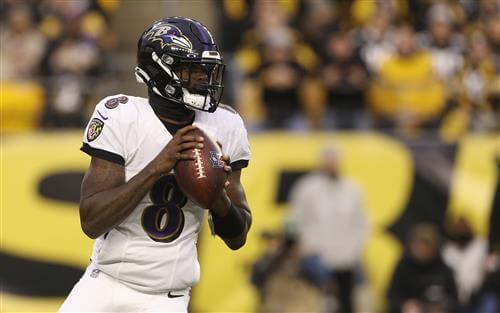 As NFL players look ahead to the summer, some of them will probably be keeping tabs on their phones as agents work on new contracts or extensions.
Thus far, wide receivers have garnered most of the headlines this offseason. The Jacksonville Jaguars opened the floodgates when they signed Christian Kirk to a four-year, $72 million deal. Tyreek Hill, Davante Adams, A.J. Brown, Stefon Diggs and Cooper Kupp have since signed contracts worth at least $24 million annually, and two more receivers could do the same in the coming weeks.
As usual, high-end quarterbacks will command top dollar, and two of them may soon join a group of seven signal-callers who make an average of at least $40 million per year.
In addition to an edge-rusher who's eligible for an extension, we could see three players at non-premium positions bank big-money salaries as well.
Ahead, we'll highlight eight players who can command megadeals, which we define as contracts that rank within the top three in average annual value (AAV) and guaranteed money at a position. We'll also project the full terms of their potential extensions.
Nick Bosa, Edge, San Francisco 49ers
The San Francisco 49ers' contract rift with wide receiver Deebo Samuel has sort of overshadowed the fact that they can also sign Nick Bosa to a massive extension in the near future.
As the No. 2 pick from the 2019 draft, Bosa still has two years left on his rookie deal, including his fifth-year option. However, the 49ers should pay him now, because the price will only increase over time.
Bosa hasn't skipped offseason practices and isn't consumed with thoughts about his contract situation.
"I'm sure I'll be notified," Bosa said about a potential new deal via ESPN's Nick Wagoner. "I've just been focusing on getting better. I'll let my agent worry about that."
Following his most productive year with 5.5 sacks, 49 pressures (third-most in the NFL) and a league-leading 21 tackles for loss, Bosa can command more than his brother Joey, whose contract leads all edge-rushers in guaranteed money ($102 million) and ranks second at the position in annual salary ($27 million).
The elder Bosa missed 13 games through his first three seasons, but that didn't stop the Los Angeles Chargers from signing him to a five-year, $135 million extension. The younger Bosa missed 14 games in 2020 because of a torn ACL, but he's earned the right to command a megadeal with 24.5 sacks, 99 pressures and 37 tackles for loss through 35 games.
Assuming the 49ers trade or cut quarterback Jimmy Garoppolo, they'll clear $25.6 million off the books. And if they move him, Bosa's extension may come days later.
Projected Contract: Five years, $150 million ($105 million guaranteed)
Minkah Fitzpatrick, S, Pittsburgh Steelers
Under former general manager Kevin Colbert, the Pittsburgh Steelers came to terms with defensive end Cameron Heyward and edge-rusher T.J. Watt on big-money extensions over the past two years. The former inked a new four-year deal worth $65.6 million in 2020, and the latter signed a four-year, $112 million deal last offseason.
Minkah Fitzpatrick should be next in line.
Even though Omar Khan has taken over for Colbert, the Steelers have set an organizational precedent for their high-level defensive playmakers.
During a radio segment with Andrew Fillipponi and Chris Mueller on 93.7 The Fan, defensive coordinator Teryl Austin didn't seem concerned about Fitzpatrick's inactivity through mandatory minicamp or his contract situation.
"I have zero concerns about Minkah Fitzpatrick," Austin said via Jordan Puente of Steelers Depot. "He's a unicorn. He is always in great shape. He loves football. He's got all the stuff he wants. So, I have zero worries about it, and that stuff will take care of itself."
Since Pittsburgh acquired Fitzpatrick from the Miami Dolphins in September 2019, he's recorded 203 tackles (144 solo), 27 pass breakups and 11 interceptions (two pick-sixes) while allowing just five touchdowns in coverage through 46 games.
Fitzpatrick's agent should aim to top Jamal Adams, who signed a four-year, $70 million extension ($38 million guaranteed) with the Seattle Seahawks last offseason. Fitzpatrick is a far better cover defender than Adams, who has just four interceptions in his career and isn't an impact playmaker in deep coverage.
The Steelers will need to dig deep in their pocketbook, but they would get their money's worth from the two-time All-Pro safety.
Projected Contract: Four years, $74 million ($40 million guaranteed)