Fadeaway World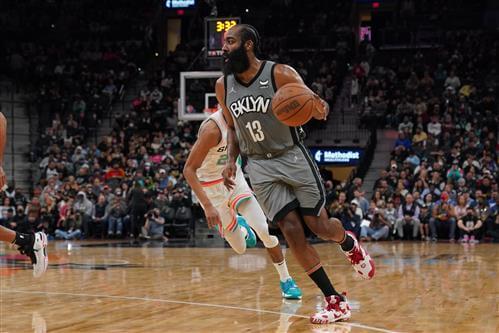 James Harden has been one of the most polarizing superstars in the NBA over the past few years. Whether it is his playing style or trade requests, Harden always seems to make headlines good and bad. No matter what anyone has to say about him, there is no doubt he is an elite offensive player. A 3-time scoring champion and former MVP, The Beard makes every team he is on miles better. He created a contender with the Houston Rockets and eventually formed a dominant Big Three with the Nets last year.
But there are rumors that Harden could leave the Nets this offseason because the franchise has undergone a ton of changes. Kyrie Irving's availability is a massive issue, especially with Kevin Durant injured for possibly the next two months. Even with Durant back, Harden has not played his best basketball in Brooklyn so far. He could be itching for a new challenge, one that would boost his playing style and give him a new avenue for something better. If The Beard leaves Brooklyn in the offseason, here are the 5 best destinations for him.
5. New York Knicks
Anytime a superstar player is a free agent, the New York Knicks will be a pivotal factor. The Knicks are one of the most storied franchises in NBA history because they bring a showtime factor to Madison Square Garden every night. Outside of the Los Angeles Lakers and Boston Celtics, the Knicks might be the most widely known NBA franchise around the world. For a player of James Harden's caliber, joining the Knicks would absolutely break all media outlets because they would have a dominant scorer for the first time since the Carmelo Anthony days.
James Harden would have the chance to deliver an NBA title to the Knicks, or at least make the team far more competitive than they already are. The right pieces are there with Tom Thibodeau as the coach and Julius Randle playing All-Star basketball, and there are also some young studs in R.J. Barrett and Cam Reddish on the squad. Harden would complete a solid starting lineup in New York that could be good enough for the Eastern Conference Finals. A decision to join the Knicks would greatly depend on Harden's desire to be the primary option because he has shown that he would prefer to take a backseat in recent years.
Harden forced his way to the Knicks' neighbors in Brooklyn because he figured he would not need to be the number one option every night. With the Knicks, Harden is thrust into that role where he would put up MVP numbers and possibly strive to deliver an NBA title for the first time since 1973. If The Beard is up for that challenge, New York is the place.
4. Boston Celtics
The Boston Celtics need to stop wasting time and go after a third superstar player. Jayson Tatum is one of the most talented players in the league, putting up 25.5 PPG, 8.6 RPG, and 3.8 APG for Boston this year while Jaylen Brown is easily an All-Star talent. Brown has become a solid number 2 option, putting up 24.2 PPG, 6.5 RPG, and 2.9 APG. As great of a duo as they are, Tatum and Brown will not be enough to lead Boston to the Eastern Conference Finals at the maximum. With a big name like James Harden, they are right in the mix for a championship.
An offensive Big Three has been proven to succeed in the past, as we recently saw when Kevin Durant joined Stephen Curry and Klay Thompson in Golden State. Tatum, Brown, and Harden would be impossible to prepare for; especially because the first two players are in their absolute prime physically.