Sportsnaut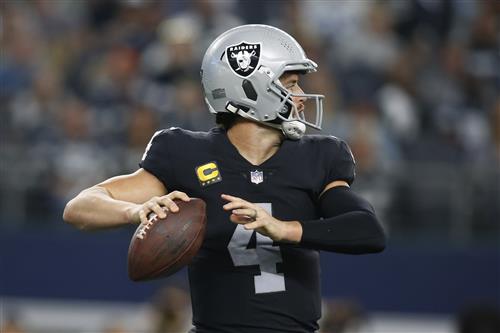 Heading for their tenth consecutive season without a playoff win, it's time for the New York Giants to swing for the fences. The G-Men have been the second-worst team in football over the past five seasons, going 25-55 in that span, which means they've won just 31% of their games.
Three years after Daniel Jones was selected sixth overall in the 2019 NFL Draft, he's done little to show he's capable of being a franchise quarterback. This of course comes after they shoved Eli Manning out the door, trying to pin their issues on one of their all-time greats. Not a good look for Dave Gettleman, who's ripe for a replacement.
Daniel Jones stats (career): 62.8%, 221 YPG, 45 TD, 29 INT, 36 fumbles (20 lost), 12-25 W-L, 26.3 rushing yards per game, 5 rush TD
Jones is under contract through 2022, but team management will have a big decision to make this offseason, regarding his fifth-year option for 2023. At this point, it seems very unlikely that Big Blue would pick up an option expecting to be north of $9 million for a player who may end up settling in as a career backup.
If not Danny Dimes, who should be the New York Giants starting quarterback in 2022? We highlight four potential options to help lead Big Blue back to the big game.
G-Men turn to Ole Miss pipeline for QB again, draft Matt Corral
There are great ties forever linking Ole Miss to the G-Men, thanks to Eli Manning's illustrious career. Could the Giants dip another toe into the state of Mississippi talent pool? Their current quarterback Matt Corral is among the most qualified quarterback prospects in the upcoming 2022 NFL Draft class, but how would he fit with the current Giants squad?
Giants fans have grown accustomed to watching Danny Dimes run into the teeth of the defense. Corral also has athleticism, but not to the same extent as Jones. Still, Corral is a frequent zone-read operator, so that aspect wouldn't necessarily go away, but he's also not nearly as quick as Jones.
From a passing perspective, Corral doesn't look like your prototypical quarterback with size. Corral is listed at 6-foot-1 and also comes up a bit short in the arm strength category. If these defining properties don't sound eye-popping, it's because they aren't. There is no consensus top quarterback for April's draft just yet.
Still, if the Giants want to hit the reset button next year, with a new quarterback to develop, Corral may be one of the most pro-ready of the bunch. He's a bright young kid who displays a high level of football IQ and finds great success taking what the defense gives him. But ultimately, there are better, more capable options out there.
Giants head to Vegas dealer for new Carr
There have been several times throughout not only the 2021 season but throughout Derek Carr's career where he has displayed the traits to be an elite, high-profile quarterback. At the same time, he's led the Raiders to the playoffs just once in his eight-year NFL career. The problem is, that was back in 2016 and he was too hurt to play. Carr has never made a postseason appearance.
On the other hand, Carr has made three Pro Bowl teams since he was selected in the second round back in 2014. For comparison, Eli Manning was named a Pro Bowl quarterback four times across his 16-year career. It's also important to note, Carr's last Pro Bowl nod came way back in 2017.