Bleacher Report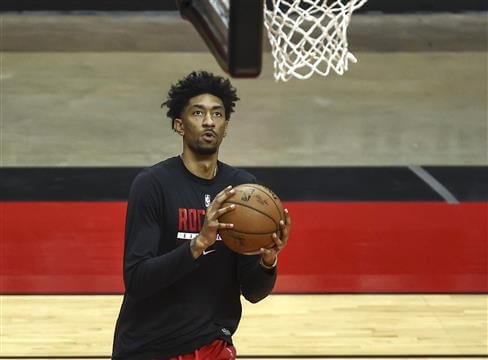 After recent summers that have featured tons of star movement throughout the NBA, the 2021 offseason felt relatively quiet.
There were certainly some notable trades and free-agent signings, but plenty of those came in the form of sign-and-trades. Also, minimum deals and cap exceptions popped up left and right.
There's still time for the volume of player movement to increase, though. Some stars (or near stars) could get dealt between now and the start of the regular season.
Trades involving a handful of those players can be found below.
Another Pick-and-Pop Threat for the Mavs
The Trade: Christian Wood for Dwight Powell and a 2025 first-round pick (top-10 protected)
If the Dallas Mavericks get the version of Kristaps Porzingis that closed out the 2019-20 campaign, the need for another weapon alongside Luka Doncic might not feel quite as drastic.
From February 3 of that season till the playoffs, KP averaged 26.3 points, 10.4 rebounds, 3.2 threes and 2.2 blocks while shooting 37.1 percent from three.
He struggled with health, consistency and defense throughout 2020-21, though, and for most of the season, it felt like there was simply too much responsibility for Doncic.
Adding Christian Wood gives Doncic another pick-and-pop threat to pull big defenders out of the paint. Over the last two seasons, Wood has averaged 16.2 points and 1.3 threes while shooting 37.9 percent from three.
And moving Dwight Powell for Wood probably wouldn't cost Dallas its lob and rim-running attack. In 2019-20, Wood's points per possession as a roll man ranked in the 95th percentile.
For the Houston Rockets, this move would be all about the rebuild they're in. Wood turns 26 this month, but he still somehow seems a little beyond the timeline centered around Jalen Green. And if they want to accumulate any more assets, Wood might be the only veteran who can land them a first-rounder.
The contracts of John Wall and Eric Gordon are two of the most onerous in the league. Houston will almost certainly have to wait those out. More shots at lottery talent with which to surround Green probably have to be acquired through other players.
As for Dwight Powell, he doesn't fit Houston's timeline either, but his annual salary is slightly less than Wood's, and paying him may just be the price of landing that first.
Indiana Unclogs Its Frontcourt
The Trade: Myles Turner for Davis Bertans and a 2024 first-round pick
In terms of pure talent, this deal probably represents a downgrade for the Indiana Pacers. Myles Turner is three years younger than Davis Bertans and is tied for 83rd in box plus/minus over the last three years compared to Bertans' 112th.
(BPM is a "…basketball box score-based metric that estimates a basketball player's contribution to the team when that player is on the court," according to Basketball Reference).
But the fit with Turner and Domantas Sabonis in Indiana simply might not work. Over that same three-year run, the Pacers were comfortably better when either Sabonis or Turner played alone than they were when both were on the floor. They're both centers, and in today's highly mobile and often positionless NBA, that means it's almost impossible to play them together.
After a deal like this, Sabonis would be the undisputed center, and surrounding the playmaking 5 who averaged 6.7 assists last season with as much shooting as possible makes sense.
Turner is a decent outside threat himself, but he's nowhere near as potent as Bertans out there. Since the start of the 2018-19 campaign, Turner has averaged 4.4 three-point attempts per 75 possessions and shot 35.4 percent from three. In the same stretch, Bertans has averaged 9.4 three-point attempts per 75 possessions with a 41.5 three-point percentage.
In that might not even do Bertans' floor spacing justice. His catch-and-shoot release is about as quick as any in the league, and he often sets up shop several feet outside the line. He doesn't just pull defenders away from the paint—he pulls them well beyond the three-point line.
For the Washington Wizards, this frees up some minutes for younger combo forwards like Rui Hachimura, Deni Avdija, Kyle Kuzma and Corey Kispert.