Sportsnaut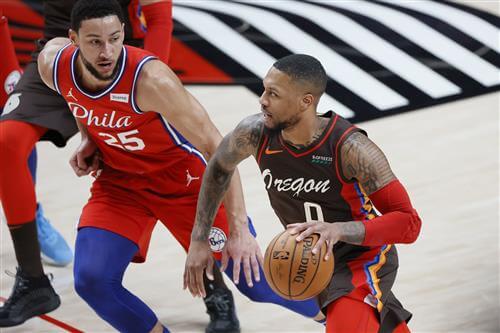 The Philadelphia 76ers and Portland Trail Blazers must know that they could go a long way toward improving their teams by pulling off a trade that sends Damian Lillard to Philly and Ben Simmons to Portland.
However, the 76ers' Simmons asking price is reportedly very high, and it's not like the Blazers would be comfortable with a one-for-one swap, especially with Simmons coming off a disastrous playoff performance. That's why they need a third team, like the Cleveland Cavaliers, to help facilitate a trade that'd go down in NBA history as one of the biggest.
You'd think the Cavs would want no part of this if they can't have Lillard or Simmons, and given Cleveland's rather obvious dysfunction when LeBron James hasn't been on the team, it's not like either superstar player would eye the Cavs as a preferred destination.
It might sound crazy, but the fact that Cleveland is somewhat rudderless due to the status of multiple key players actually works to their advantage — and benefits the Blazers and Sixers if the sides can agree to a landmark deal.
Kevin Love, Collin Sexton are ideal trade chips for Cavs
With two years remaining on his contract, Kevin Love obviously wants to go to a better franchise. He was left behind by LeBron and Kyrie Irving, and hasn't been the type of leader the Cavs have needed to mount any sort of momentum to turn the corner in the Eastern Conference.
This isn't really Love's fault. He sacrificed a lot of individual clout to go to Cleveland in the first place, and won a championship. It wasn't all for naught. The basis for his leaving the Minnesota Timberwolves was their failure in managing the roster. Unfortunately, he's dealt with much of the same for years now.
Love is the type of veteran who could really thrive with a change of scenery. We've seen the double-double machine he can be, and how well he spaces the floor as a 3-point shooter. His outlet passes are phenomenal, too. You're not going to find that skill set many places.
Also, Cavs guard Collin Sexton is coming off a sensational season in which he averaged 24.3 points per game. Sexton has tons of defensive upside as well, yet he's been floated in trade rumors all summer, as Cleveland seems reluctant to give him a max contract.
On his current trajectory at just 22 years old, and with a max payday still not on the books, Sexton is a great piece to deal away.