CBS Sports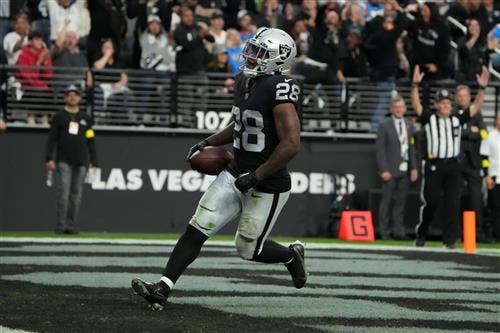 So far, Josh Jacobs' NFL career has somewhat mimicked the career of former Raider and Hall of Fame running back Marcus Allen. Three years after he broke Allen's franchise rookie rushing record, Jacobs led the NFL in rushing (1,653 rushing yards in 2022), a feat Allen also accomplished during his fourth year in the league. Jacobs, whose rookie contract has expired, may further follow in Allen's footsteps by prematurely leaving the Raiders.
Jacobs did not take part in Las Vegas' offseason program and did not report to minicamp after not yet coming to terms with Las Vegas on a new contract following the team placing him on the franchise tag. Since Jacobs has not signed his franchise tag yet, he cannot be fined for missing the mandatory portions of the offseason because he is technically not under contract. The would pay him $10.1 million fully guaranteed in 2023.
The reigning NFL rushing champion, who turned 25 in February, will hold out from the Raiders' training camp, which begins for veterans on July 25, should he not have a new deal by the July 17 4 p.m. E.T. deadline for franchise-tagged players to reach agreements on long-term extensions, according to Fox 5 Las Vegas' Paloma Villicana.
"I think this is the first year where I went into the offseason just feeling great," Jacobs told Villicana. "Not because of what I achieved but body-wise. I didn't have any nicks and bruises at the end of the year, so the whole offseason there wasn't any rehabs, just training. I just feel good, I feel explosive."
If he is made available, whether that's as a free agent by the Raiders rescinding the tag or via trade, Jacobs would be one of the most sought-after players that are still up for grabs at this point in the offseason. Given the current running back economy, Jacobs should be a relatively affordable player. His current projected market value is $51,409,696 over four years for an annual average of $12,852,424, according to Spotrac.
Based on their need for a running back and salary cap situations, here are the top-five potential landing spots for the league's reigning rushing champion.
1. Philadelphia Eagles
Since Miles Sanders is now a Carolina Panther, Jacobs would be a seamless addition inside an Eagles offense that put up 35 points in the Super Bowl. The defending champion Philadelphia Eagles don't "need" anyone at this stage in the offseason, but coming up just three points short in the Super Bowl could cause general manager Howie Roseman to go all-in.