CBS Sports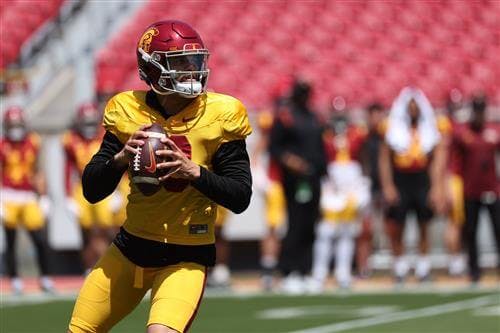 Even though the rollercoaster ride that was the three-day, chaotic bonanza called the 2023 NFL Draft just came to a stop on Saturday, the league's 32 teams have already turned their eyes toward the 2024 Draft. This year, there was plenty of debate in the lead-up to the draft centered around the best quarterback prospect, with four of them receiving support to be the first overall pick: Alabama's Bryce Young (taken first overall pick by the Carolina Panthers), Ohio State's C.J. Stroud (the second overall pick by the Houston Texans), Florida's Anthony Richardson (the No. 4 overall pick by Indianapolis Colts), and Kentucky's Will Levis (the 33rd pick by Tennessee Titans in Round 2).
The 2024 NFL Draft won't have any such debate about the top overall pick and the top quarterback prospect. The unanimous answer to both of those questions is the 2022 Heisman Trophy Winner, USC quarterback Caleb Williams. College football's total touchdowns leader last season (47 overall; 37 passing and 10 rushing) will be draft eligible in 2024, and even though he has yet to play his junior season, Williams is already drawing comparisons to Patrick Mahomes. Noted quarterbacks coach Tom House told ESPN's Adam Schefter in December that Williams is "the second coming of Patrick Mahomes." Williams isn't phased by the lofty praise, and he even openly agrees with it.
"It's pretty cool, I'd say, just because everybody watches Patrick and sees all the cool things he can do," Williams said in December. "I always said, even in high school, and obviously he's special, but I don't think there's anything I can't do that he's doing out there. I think it's really cool, like I said. I've had comparisons to a bunch of other people, and since I have, Patrick is pretty cool."
Given that Williams is viewed as having the potential of being one of the NFL's best quarterbacks, here's a ranking of the five teams who have the best chance to end up with the number one overall selection and the rights to take him in 2024, based on where the NFL landscape is today. Plus, three honorable mention, dark horse teams that might trade the farm for his draft rights, should they have disappointing 2023 campaigns.
1. Arizona Cardinals
Face-of-the-franchise Kyler Murray could miss as much as half of the 2023 season after tearing his ACL and meniscus and undergoing surgery to repair both in January. Starting the beginning of 2023 with soon-to-be 37-year-old Colt McCoy or rookie fifth-rounder Clayton Tune at quarterback could lead to some early losses piling up under first-year head coach Jonathan Gannon. The heart and soul of the Cardinals defense, All-Pro safety Budda Baker, wants out unless the rebuilding franchise makes him the NFL's highest-paid at his position. Plenty of uncertainty on both sides of the ball.
Plus, Arizona has the Houston Texans' 2024 first-round pick after trading out of the third overall pick in 2023, allowing the Texans to select Alabama pass rusher Will Anderson Jr. That gives them two shots at ending up with the first overall pick, controlling the first-rounder of two rebuilding teams that were bottom-three teams in the NFL in 2022. Between a lack of talent on defense — the Cardinals allowed 26.4 points per game in 2022, second-most in the NFL — as well as the absence of Murray and a lack of clarity of what he could look like after a significant injury, Arizona is well-positioned to end up with the opportunity to select Caleb Williams.
2. Tampa Bay Buccaneers
The Buccaneers are a team primed to fall in Year 1 of Tom Brady's real retirement. They averaged 76.9 rushing yards per game in 2022, the fewest in the entire league, causing their one-dimensional offense to average 18.4 points per game (25th in the NFL). That was with Brady at quarterback. In 2023, Tampa enters with a quarterback competition between Baker Mayfield and 2021 second round pick Kyle Trask, who has played in one NFL game. Top pass rusher Shaq Barrett is coming off a torn Achilles and may experience some rust in his return to football. The Buccaneers are a team primed to struggle after not having much cap room to add reinforcements in free agency. They're squarely in the Williams sweepstakes.